The company discloses what goals it has set and what measures it has taken to promote the employability of all employees, i.e. the ability of all employees to participate in the working and professional world, and in view of adapting to demographic change, and where risks are seen.
Training young talent is the foundation of any stable, sustainably-operating company. As a public-sector company and part of the business community in the Free and Hanseatic City of Hamburg (FHH), HMC has been actively supporting young people's professional development by providing them with training opportunities for many years. At any given time, there are approximately 18 trainees at HMC who work in five different technical and commercial disciplines. Every year HMC hires six former trainees on average as permanent employees. In addition, HMC offers internships to university students studying in combined work-while-studying programmes, including specialised thesis tutoring where desired.
This is one of the reasons HMC has earned the "5-Star Seal" in the competition "Hamburg's Best Companies For Trainees" on several occasions. Since 2020, trainees have been able to participate in the Energy Scouts project offered by the Hamburg Chamber Of Commerce. This opens up further education opportunities in the field of energy and resource efficiency / preservation which aims to build awareness of matters at the interface of technology and ecology. HMC trainees carried out a project called "Ist der Energieverbrauch im Keller" (paraphrased: When Energy Consumption Hits Rock Bottom), which dealt with retrofitting LED lights in the exhibition halls and earned them second place in a competition. Fostering young talents is an important task considering the ageing population in our society.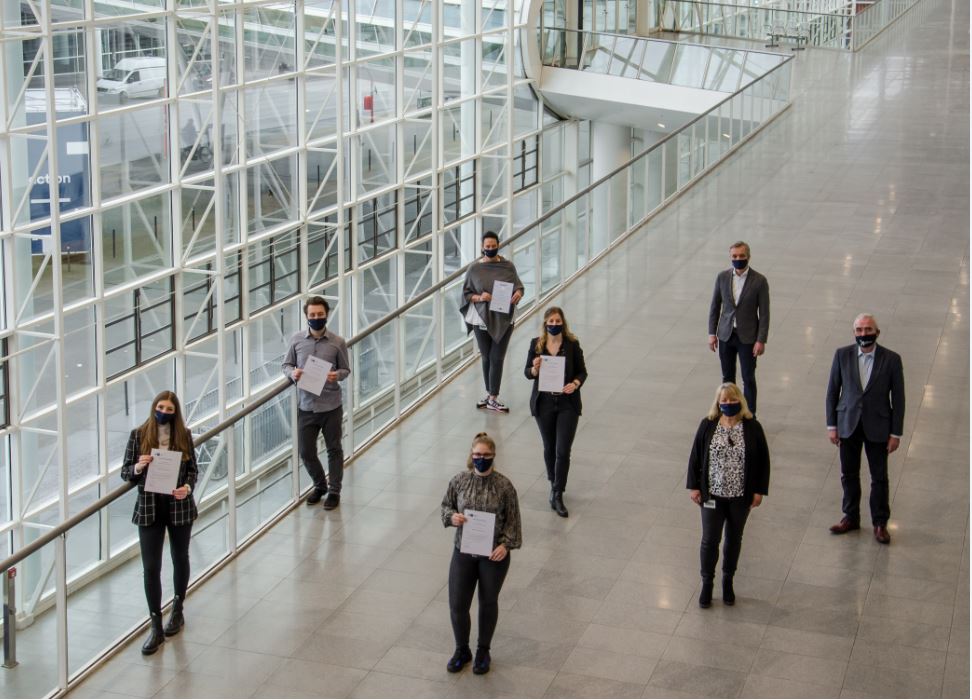 Energy-Scouts and their trainer with the management team © Hamburg Messe und Congress
HMC places great emphasis on strengthening the individual skills of all employees while supporting their personal development continually. This led to the establishment of the HMC-Academy which, apart from promoting health, has become HMC's core resource for personnel development. Every year it offers a multifaceted catalogue of training opportunities tailored to suit the given needs. With the advisory support of experienced personnel development experts, HMC offers volunteer training courses imparting technical soft skills, organisational methodologies or negotiation skills, leadership workshops, stress management classes and much more (for the number of hours of training and further education programmes refer to KPI GRI SRS-404-1).
Since digitalisation and Social Media are often challenging for older employees, there is a growing need for appropriate skills. Several new training courses are dedicated specifically to these two topics to make sure all employees are sufficiently qualified to handle new trends in their personal and professional lives. Examples include:
Fit for Digital: Coping with the digital transition successfully
Successful with Social Media – Workshops for beginners and advanced users
Leading digitally – Leadership 4.0 (How can we as leaders manage the accomplishments and challenges of the digital age?)
To better evaluate these further education programmes, HMC plans to implement a suitable assessment tool. The goal for 2020 was for the HMC Academy to offer 21 elective further education courses. Under pandemic conditions it was possible to hold seven of them digitally.
Apart from offering non-compulsory training courses, HMC expects employees to take regular online courses addressing relevant topics such as data privacy, fire protection, occupational safety, general non-discrimination etc. These and other subject matters are being taught on a regular basis using the business training tool sam®. All (100%) employees are under obligation to take these training courses on a regular basis. This helps ensure the highest levels of safety and employability for HMC's staff. Compliance with training requirements is monitored by supervisors. In 2020 the compliance quota was at 62.5 %. To improve this relatively low participation rate, several measures have been taken, such as setting-up an automated reminder feature and notifying supervisors about inadequate compliance so they can encourage participation. From 2021 the e-learning tool sam® and the HMC-Academy will both provide training and seminars on the basics of operational sustainability.
Whenever HMC is able to hire its former trainees as qualified, enthusiastic future employees, this helps mitigate the risks inherent in the demographic shift while ensuring high-quality skill sets through providing optimal support to young talents. The Energy Scouts program encourages young employees to support the more experienced ones in addressing an especially urgent concern, thereby enhancing intergenerational collaboration.
As for safety and health management, other risks are overcome by HMC's meticulous tracking and updating its regular, mandatory training curriculum. To ensure compliant conduct on company premises, HMC underpins its training programmes by providing relevant fact sheets on the intranet, which can likewise help prevent accidents. The safety of employees as well as service and other business partners is a top priority at HMC. It is ensured by implementing continuous qualification programmes.
Another risk, employee dissatisfaction, would be reflected by a high staff turnover. In 2019, the employee turnover figure for all of Germany as published by the Federal Labour Agency was more than 33%, expressed as the average of all employment relationships initiated and terminated relative to the total number of existing employment relationships subject to social insurance contributions during the year. At HMC, employee turnover was as low as 3.8% in 2019 (not counting trainees or persons on long-term sick leave). This justifies assuming a high level of employee satisfaction, which was further confirmed in an employee survey 2019. The next such survey is planned for 2023.
Also refer to:
"
Our Contribution to The United Nations' 17 Sustainable Development Goals
"