The company reports on how it complies with nationally and internationally recognised standards relating to employee rights as well as on how it fosters staff involvement in the company and in sustainability management, what goals it has set itself in this regard, what results it has achieved thus far and where it sees risks.
As a public-sector company, Hamburg Messe und Congress GmbH (HMC) is fully aware of the responsibility it bears for the city of Hamburg and its region. HMC is committed to ensuring fair, just and respectful interaction with its employees.
Occupational safety is a matter of great importance to HMC. HMC is constantly working on protecting its employees as effectively as possible while minimising the number of accidents or eliminating them altogether.
HMC will continue making every effort to protect its employees against hazards and accidents through measures such as on-site training using the sam® e-learning system. All (100%) employees are required to take these on-site training courses on a regular basis.
A company can only operate sustainably and successfully as long as its employees remain healthy. To ensure the long-term well-being of our team, HMC has introduced a multifaceted health management programme. For example, the internal HMC-Academy offers stress prevention courses. In addition, HMC regularly holds Health Days which provide instructions on physical exercise and healthy nutrition. Staff sport groups, medical care by the company physician, company-owned bicycles and support for active participation in a variety of athletic events complete the picture. Another health-related initiative is the annual free influenza immunisation campaign.
A good work-life balance is the very basis for long-term health and well-being. Therefore, HMC offers a flexible working time scheme which includes flextime, part-time and remote working arrangements. Employees may also take a sabbatical if desired. In 2020, 232 employees were working full-time and 81 employees were working part-time. Because of the pandemic, all employees were able to work remotely, at least temporarily. No sabbaticals were taken.
HMC's work arrangements help employees reconcile their family duties with their job responsibilities and allow parents to perform their professional tasks more easily. These efforts have earned HMC the Hamburg Family Seal award several times.
During the pandemic year 2020, protecting the health of the workforce was the top priority at HMC. The pandemic, which brought the entire event business to a complete halt, harboured the risk of layoffs. By applying the Collective Agreement Governing Short-Time Work For Members Of The Federation Of Municipal Employer Associations (TV COVID) as well as the COVID-19 Applied Collective Agreement (Anwendungstarifvertrag COVID 19) in conjunction with the Company COVID-19 Short-Time Agreement, employment relationships at HMC where protected in an optimal way. A shut-down of operations in April 2020 and the initiation of short-time work from May 2020 secured and protected the jobs at HMC. Furthermore, all affected employees were quickly provided with the means required for remote work. The HMC crisis management group is in charge of ensuring that hygiene rules and occupational safety and health measures, such as social distancing, are adapted to changing conditions whenever appropriate. As of 2021, additional preventive measures will be taken to guide employees healthily through the coronavirus pandemic. For example, employees will be offered regular testing as well as a programme to enhance physical resilience.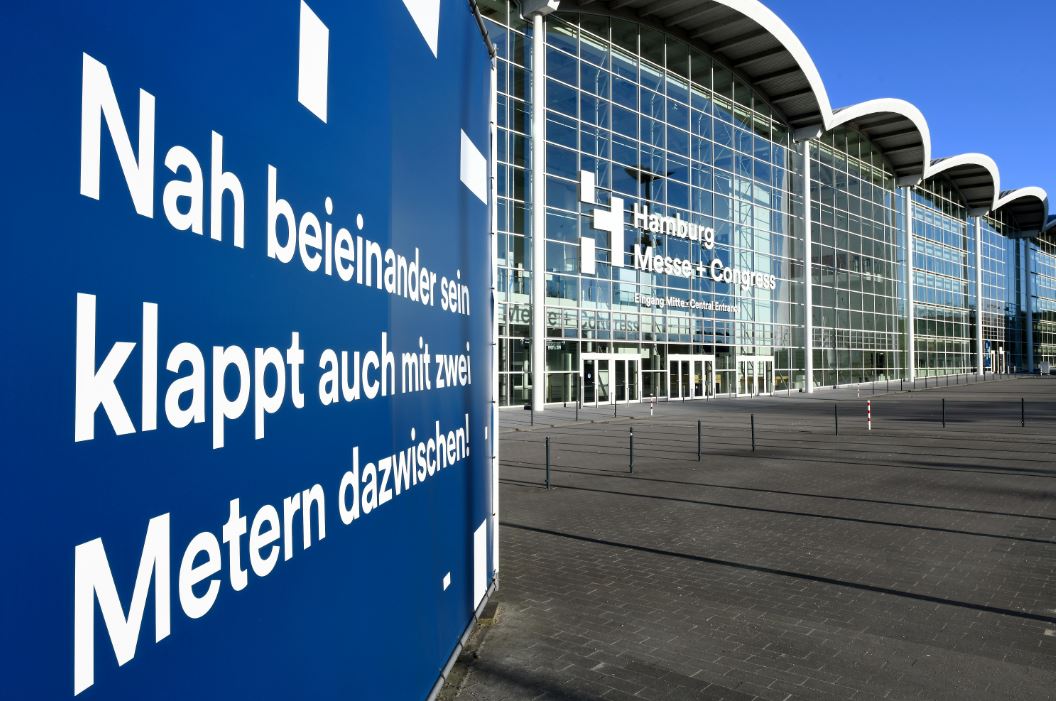 "Being close also works with two meters between each other" © Hamburg Messe und Congress / Michael Zapf
HMC is committed to enabling and maintaining a transparent, open flow of communication with its employees. Regular newsletters, a bulletin board and the company intranet are all available to employees as sources of comprehensive, relevant, current information. Contact persons for all matters are announced so employees know at all times where to turn with their concerns. Employee interests are advocated by the works council and the trade union. Throughout the pandemic, communication with employees was kept alive through initiatives such as digital town-hall-meetings and digital works meetings.
The German Minimum Wage Act (Mindestlohngesetz, MiLoG) went into effect on 01 January 2015, and the current Free and Hanseatic City of Hamburg (FHH) Collective Agreement took effect on 02 March 2019. HMC pays its employees at least the statutory minimum wage and fully complies with the stipulations of MiLoG.
As a wholly-owned subsidiary of the Free and Hanseatic City of Hamburg (FHH) HMC additionally commits to awarding public contracts for construction and other services exclusively to contractors who agree in writing, at the time they submit a proposal, to compensate their employees for the work to be rendered at least as stipulated in Section 5 of the Hamburg Minimum Wage Act or in the applicable, mandatory collective agreement under the German Posted Workers Act.
HMC does business internationally through its International Events (Auslandsveranstaltungen) department. HMC organises joint exhibition stands (German pavilions) at international trade fairs world-wide. HMC's International Department has comprehensive trade fair experience on five continents, offering a full range of services from a single source, from taking care of all preparations in Germany through to overseeing the exhibition activities at the fair site. HMC supports exhibitors on site before and during international events, including stand assembly activities, ensuring that everything is ready at the proper time. All applicable employee rights are complied with as a matter of principle. During official German joint trade fair engagements (with German ministries as the principal), HMC's International Department staffs information areas and lounges with hosts and hostesses subject to German employment standards, such as maximum working hours, breaks etc. International staff whose selection is outside of HMC's influence (e. g. those working for stand construction companies) are typically national or regional contractors selected by the relevant federal ministries in an RFP process, applying appropriate selection criteria.
Also refer to:
"
Our Contribution to The United Nations' 17 Sustainable Development Goals
"