The company discloses the GHG emissions in accordance with the Greenhouse Gas (GHG) Protocol or standards based on it and states the goals it has set itself to reduce emissions, as well as its results thus far.
The three most significant emission sources at Hamburg Messe und Congress GmbH (HMC) are (1) heating and cooling the exhibition halls, (2) the supply of electricity to the exhibition halls, the CCH and the administration building, and (3) the mobility of exhibitors, visitors and participants of trade fairs and congresses.
Since 100 % of the electricity consumed by HMC is green electricity from renewable sources, the associated greenhouse gas emissions are low. Compared with the average German electricity mix, this reduces HMC's greenhouse gas emissions by 5,800 metric tonnes of CO
2
equivalent annually.
A factor of significant climate relevance, however, is the use of recovered waste heat from the district heating network which is coal-powered. The heat it generates is first supplied to other consumers, then to HMC where it passes through heat exchangers. This form of heating could be described as 'heat recycling'. It is a good long-term option, especially since the City of Hamburg owns the district heating network and is planning to substitute the legacy high-greenhouse gas incineration stations with regenerative energy sources.
Quantifying emissions from event-related transport is a challenging task. Since it can only be approximated based on random surveys, it is impossible to provide more than estimates of these emissions.
In 2020, HMC prepared an event-independent CO
2
balance sheet for the year 2019, supported by an external consultant. This CO
2
footprint is based on data covering facility management, employee mobility, business trips, procurement, and company logistics pursuant to the generally accepted GHG Protocol (Scope 1-3). This data has enabled HMC to identify significant emission reduction potential. The largest emission source is externally-generated heat (37.9%). The second most significant item is emissions from the heating and cooling supply chain (18.2%). Third in line is the electricity supply chain, at 13.7 %. A CO
2
compensation scheme cannot be proposed feasibly in the current pandemic-induced economic situation. The pilot project further indicated that the data collection procedure as well as data quality need to be improved to achieve a more precise result. A calculation of the "footprint" for 2020 and 2021 is not carried out, as the volume of emissions was strongly influenced by the pandemic. The calculation of the carbon footprint is planned next for 2022. HMC intends to collect additional data needed for the CO
2
balance sheet in connection with events in the longer term.
In its Climate Protection Master Plan, the Hamburg Senate has proclaimed its target to reduce CO
2
emissions by at least 95% by the year 2050 compared to 1990 levels. As an intermediate goal, the measures detailed in the 2030 Action Plan intend to reduce CO
2
emissions by 55% by 2030. Hamburg's public sector organisations are expected to achieve climate neutrality by 2040.
Progress towards the FHH climate targets are tracked continuously, and it is intended to make a positive contribution to the reduction of noxious emissions. The Executive Board and the Sustainability Officer are continuously monitoring the ongoing measures taken to reduce greenhouse gas emissions.
To achieve the climate protection goals set by the Hamburg Senate for 2030 (intermediate goal), the Industrial Transformation Pathway outlined in the Climate Plan calls for a combined CO
2
emission reduction from Hamburg's entire business sector by 5.5m tonnes compared to 1990 levels.
Under the Climate Partner Agreement (since 2018), HMC and 15 other public-sector companies have agreed to adopt a first-mover role by committing to reducing their CO
2
emissions by 140,000 tonnes annually. The baseline year for greenhouse gas emissions as documented in the Agreement is 2012. Additional initiatives towards increasing HMC's contribution to emission reduction include HMC's commitment as an Eco-Partner (UmweltPartner) of the City of Hamburg, and its membership in the Air-Quality Partnership.
What is more, HMC invests in technology enabling significant CO
2
reductions on a regular basis, including:
Energy optimisation of air ventilation fans in late 2017 (enabling CO2 reductions of 28.113 tonnes),
Retrofitting LED lighting in the Lagerstrasse indoor car park in 2019 (enabling CO2 reductions of 94.257 tonnes),
Installation of e-car charging stations as of 2022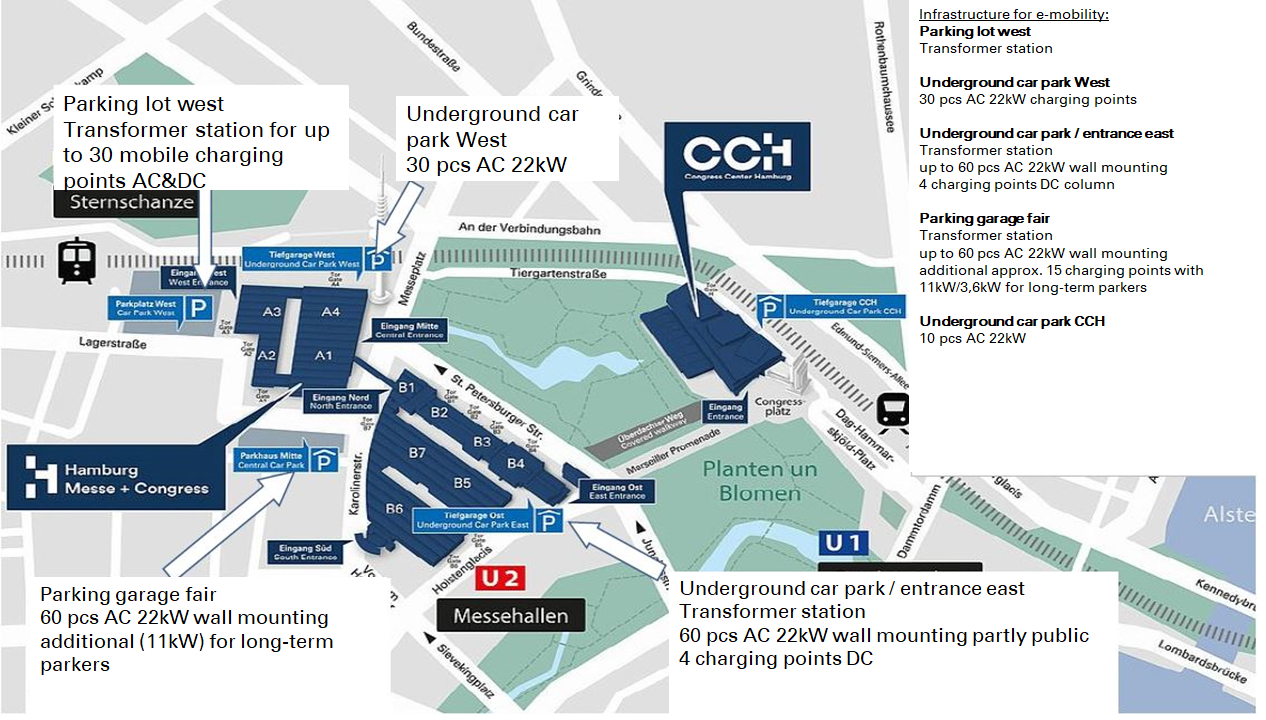 © Hamburg Messe und Congress
Future CO
2
balance sheets will provide further input supporting HMC's efforts to monitor its climate-relevant data.
Future emission reductions will strongly focus on the emission sources described above. Since the composition of both, the electricity supply and the district heating are dictated by the shareholder, HMC sees its primary responsibility in optimising the efficiency of its energy consumption.
A good example for further emission reductions is the cooperation with the logistics provider Pakadoo, an HMC contractor since 2018. Pakadoo allows HMC employees to have their personal online orders shipped directly to the place of employment. This ensures that deliveries will never be missed and the number of failed delivery attempts is minimised. The collaboration with Pakadoo has avoided approximately 1.67 tonnes of CO
2
emissions in 2020. This figure encompasses 1,802 individual packet deliveries, with one packet assumed to avoid 924 grams of CO
2
emissions. This is an innovative way to reduce traffic in cities while protecting the climate.
Further major measures taken to reduce climate-related emissions include:
CCH-revitalisation: the new building is cooled using air from the adjacent park (refer to Criterion 10)
Mobility concepts: e. g. lorry slot system used by the logistics provider (refer to Criterion 10)
Improved public transport connections and ticket discounts; company-owned staff bicycles (refer to Criteria 2, 4, 12)
CO2-free trips to and from the fair site using the Event Ticket offered by the German rail company (bahn.corporate; refer to Criterion 4)
State-of-the-art vehicle fleet, hybrid vehicles, electric on-site carts including charging infrastructure based on the "Guidelines For The Procurement Of Vehicles With Low CO2 And Other Noxious Emissions" (Leitlinie für die Beschaffung von Fahrzeugen mit geringen CO2- und Schadstoffemissionen) (refer to Criterion 11)
Compensation of business flights as well as travel management through HANSALOG (refer to Criterion 3)
Also refer to:
"
Our Contribution to The United Nations' 17 Sustainable Development Goals
"