The company discloses the GHG emissions in accordance with the Greenhouse Gas (GHG) Protocol or standards based on it and states the goals it has set itself to reduce emissions, as well as its results thus far.
Anhalt Logistics is aware of its responsibility for the climate. As a logistics service provider, we know that a large part of CO2 emissions is generated during transport. In the evaluation of energy KPIs, the diesel consumption plays the biggest role.


By implementing a fuel control system in all our tractor units, we have been able to significantly reduce our average fuel consumption. From 2018 to 2019 we achieved and even further reduce our goal of reducing the fleet's average fuel consumption by 0.10 liters per 100 km per year (see figure). Reducing the fleet consumption by 0.10 liters per 100 km per year remains our goal.


The data from the tank sensors is processed by a sophisticated algorithm, which guarantees a measurement accuracy of 1.5% of the tank scale under normal, usual driving conditions. Eventually, we have full control of the fuel consumption and can respond to abnormalities in consumption by analyzing and optimizing a driver's driving behavior in close dialogue with the driver and the driver trainer. The diesel management department and the driver are in constant contact with each other.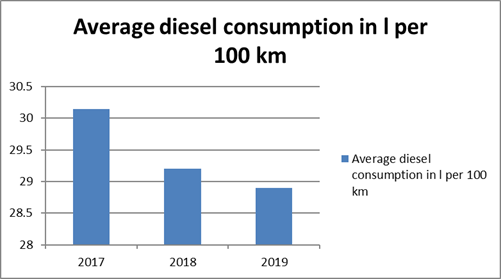 The CO2 emissions resulting from our fleet's diesel consumption of 8,826,970,9 liters leads to CO2 emissions of 22,950,122,3 kg at a fleet size of 235 vehicles.


By steadily reducing our fleet's diesel consumption by minimum 0.10 liters per year, we continue to work on the reduction of CO2 emissions. Since 2017 and with the introduction of the tank sensor system, we were able to significantly lower our fleet's average diesel consumption in liters per 100 km.


In accordance with the Greenhouse Gas Protocol, we report in this DNK statement on:
Scope 1:
Use of fuel oil in heating systems and steam boiler systems of our tank cleaning operations
Use of gas in heating plants and steam boiler plants of our tank cleaning operations
direct emissions from combustion processes of mobile plants
- Diesel consumption of our trucks
- Gasoline consumption of our business cars
Scope 2
Indirect emissions from purchased electricity
Here, a complete switch to green electricity has already taken place at the time of reporting and thus there will be no more GHG emissions for purchased electricity from spring 2020.