The company discloses what qualitative and quantitative goals it has set itself with regard to its resource efficiency, in particular its use of renewables, the increase in raw material productivity and the reduction in the usage of ecosystem services, which measures and strategies it is pursuing to this end, how these are or will be achieved, and where it sees there to be risks.
Sustainability, as Hamburg Messe und Congress GmbH (HMC) understands it, includes "[...] a development that meets the needs of the present without compromising the ability of future generations to meet their own needs" (Brundlandt definition from the Report of the World Commission on Environment and Development, 1987).
Climate protection plays a key role in this context. Climate protection is per se sustainable, and not just at the ecological level. Avoiding major climate change creates stability and ensures long-term success at the social and economic levels, as well.
HMC is an organiser of leading global trade fairs which are linked to sustainability. One of these trade fairs is WindEnergy Hamburg, which showcases regenerative energy sources. But HMC not only provides a central meeting place to third parties (such as Heldenmarkt, a trade fair for sustainable consumption) but has adopted internal principles of operational climate protection in its
Climate Protection Policy
, as well [refer to Criterion 6].
Climate protection is consequently a core concern from the perspective of corporate responsibility, as well. This is another reason HMC as a public-sector company is committed to doing its share to implement the climate protection policy set forth by the Senate of the Free and Hanseatic City of Hamburg (FHH), and to contributing on a permanent basis.
To this end, HMC supports numerous continuous initiatives towards implementing the principles of climate protection. An excerpt:
General initiatives
:
Sustainability Officer & internships focusing on sustainability for planning, monitoring and reporting
Internal sustainability concept and goals as of 2021
Climate Partner Agreement since 2019
Eco-Partner (UmweltPartner) of the City of Hamburg since 2019
Member of the Air-Quality Partnership since 2020
Guidance For Ecologically Responsible Procurement / Guidelines For Organising Events Sustainably
"Pakadoo" packet delivery service to reduce CO2 emissions locally
Energy Scouts: Further education programme for trainees since August 2020
Waste
:
Waste separation in the administrative sector and at events according to the Commercial Waste Management Ordinance
Waste incineration according to the strict standards of the Federal Clean Air Act
Glass and old batteries are collected centrally for proper recycling
Digital signage and advertising
Reduction of waste quantities (e. g. IT equipment recycling)
Inclusion of exhibitors in waste management responsibility and waste avoidance measures (carpeting, pre-manufactured exhibition stands) a. o. through raising awareness
Office supplies and administration building
:
Gradual implementation of 'paperless office' / 100% FSC-certified or recycling paper
Reusable kitchenware only ("Glass instead of plastic")
Green IT
Digitalisation, cloud-based solutions
Soil and water
:
Reduction of traffic areas and sealed surfaces (park enlargement: biodiversity, space for recuperation)
Limitation of road salt use to absolute minimum
Herbaceous rooftop garden above Hall H: Reduces water consumption, provides water for adjacent park and creation of green areas (biodiversity)
CCH uses water-saving fittings to reduce water consumption, including flushing water
CCH uses special water filters allowing it to serve tap water as drinking water (reduces use of plastic and saves transport costs)
Ecologically and economically sound cleaning concept (Eco-friendly cleaning agents, water conservation, monitoring of cleaning activities to avoid environmental hazards)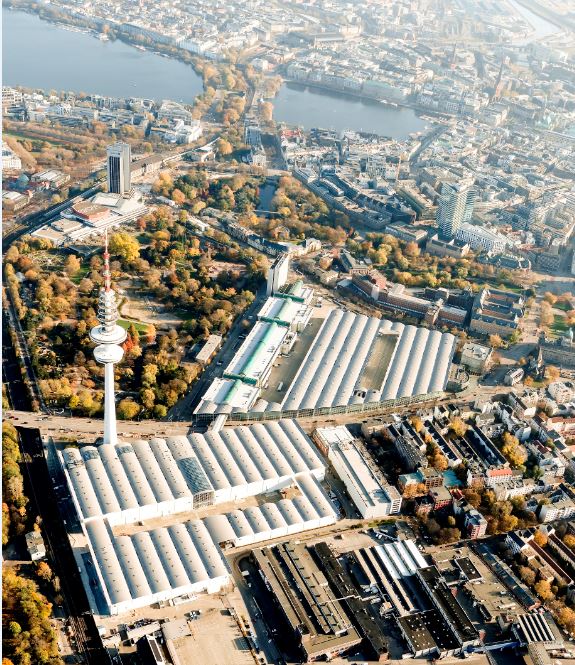 © Hamburg Messe und Congress /

www.falconcrest.com
Energy and fuels
:
Reduction of power consumption (e. g. "Switch Me off" signs on light switches since 2021)
CO2 Balance Sheet
Energy audit according to German Energy Services Act (EDL-G)
100 % renewable electricity since 2011
Compliance with Energy Saving Ordinance of 2014 (exhibition halls)
Efficiency Class A
On-site electric carts and charging infrastructure
Use of daylight instead of electric light whenever possible
Retrofitting of energy-efficient technology (e. g. LED lighting, motion detector-controlled light switches in corridors, illumination and media equipment)
Company-owned staff bicycles
Successive conversion of company cars to hybrid vehicles
Heating / cooling:
99 % recovered waste heat from the district heating network
Heat recovery from ventilation systems
Ventilation and air conditioning systems controlled separately for each hall
UVC air sanitation systems (Halls B1 to B4, East and South entrances)
CCH: temperature inside the building during operations is controlled hall by hall and adjusted for the respective building section and season
CCH: Air-conditioning takes advantage of the natural cooling effect of the adjacent 'Planten un Blomen' Park
Additionally at CCH
:
Air quality control:

natural ventilation (from Planten un Blomen Park)
air quality can be adjusted for number of attendees
guaranteed air moisture, high air throughput

Contaminants:

exclusive use of DGNB-certified construction materials
compliant disposal of contaminated legacy construction material
The Sustainability Officer regularly reviews all implemented and planned measures, supported by the Sustainability Project Team. Further visions and optimisation potential are being developed. The implementation status of measures is reported regularly to the Executive Board. Furthermore, HMC reports its (planned) savings to the Climate Central Office, the initiator of the Climate Partner Agreement. No internal intermediate quantitative targets have been defined in addition to the FHH saving targets (refer to Climate Plan).
HMC considers its own use of resources and that of its service partners as substantial and is committed to improving the efficiency of its material and energy use steadily. Furthermore, HMC requires its contractors to comply with all applicable environmental and social standards.
One of the key risks in HMC's business operations in terms of natural resources is proper recycling. Ensuring proper separation and recycling of waste is a highly complex task in many trade fairs and events. Exhibitors are required to give preference to reusable materials and adhere to waste separation rules. One example of sustainable material use is the provision of reusable carpeting tiles for events. In addition, certified cradle-to-cradle carpeting is offered as of 2022.
Another perpetual risk in terms of high consumption of natural resources (especially fuels) is associated with the transport of exhibitors, congress participants and visitors to and from the premises. It is not up to HMC to dictate a particular means of transport. All HMC can do is raise awareness and provide incentives (such as discounts for train passengers) (for the results of a scientific study on enhanced integration of public transport in event ticket prices please refer to reporting year 2019).
Also refer to:
"
Our Contribution to The United Nations' 17 Sustainable Development Goals
"