The company discloses the extent to which natural resources are used for the company's business activities. Possible options here are materials, the input and output of water, soil, waste, energy, land and biodiversity as well as emissions for the life cycles of products and services.
The greatest ecological impact is caused by:
Surface area [m2]
Waste, especially non-recyclable waste [m3]
Electricity [kWh]
Heating/cooling [kWh]
Transport of arriving and departing trade fair and congress customers [t CO2]
The sealed terrain covered by the exhibition halls and site and the CCH is the greatest resource in the day-to-day operations of Hamburg Messe und Congress GmbH (HMC). This is why one of Europe's largest herbaceous plant rooftop gardens was created on the roof of Hall H of the CCH – Congress Center Hamburg. Its purpose is to recreate some of the biodiversity and rainwater seepage surface.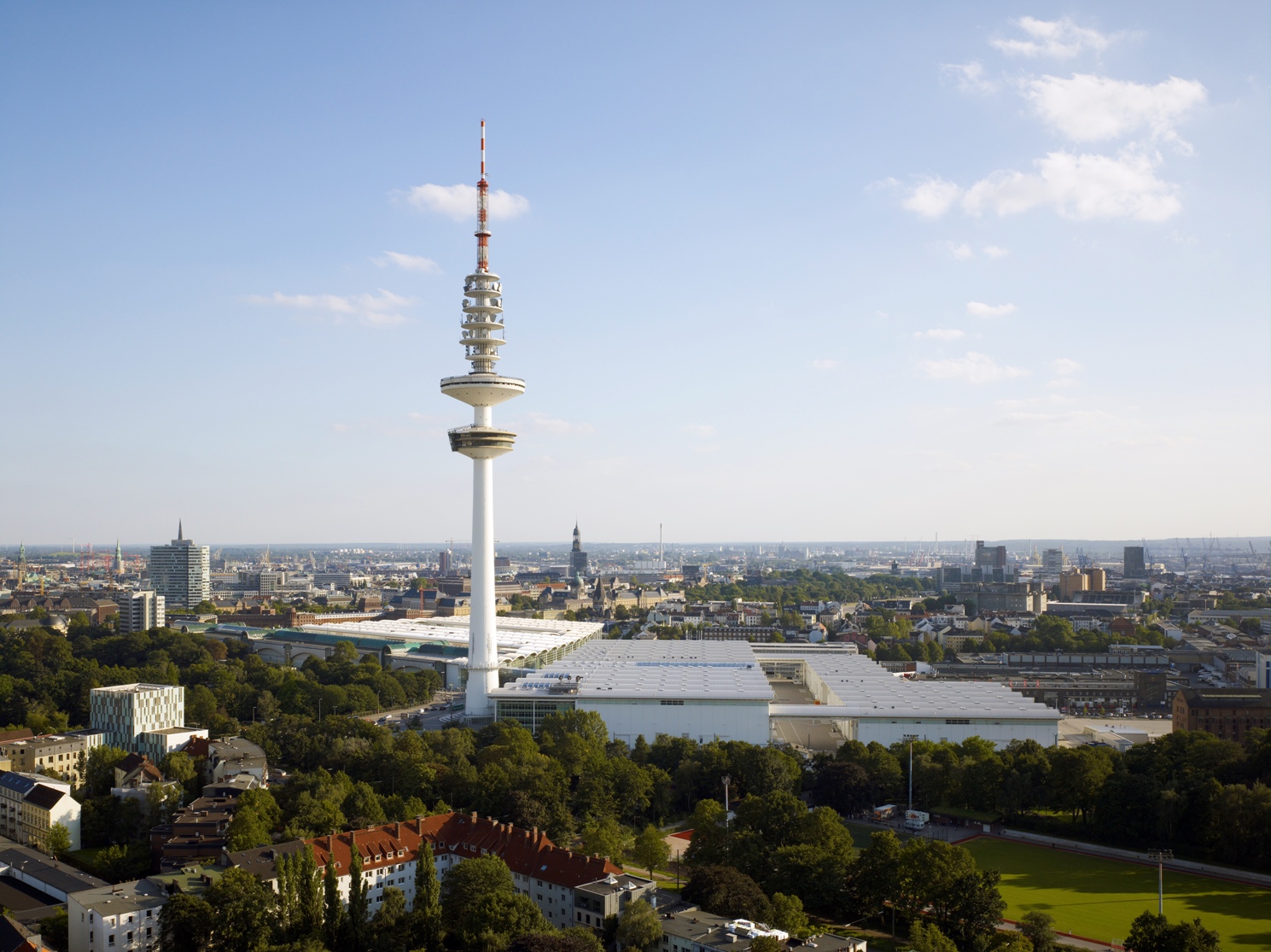 © Hamburg Messe und Congress / H. G. Esch, Ingenhoven Architects
The waste generated during trade fairs and congresses is disposed of by HMC's contractors as required under applicable regulations. Exhibitors are provided with separate waste containers enabling them to separate waste types for proper recycling. The HMC "
Green Guidelines
for Exhibitors To Ensure An Eco-Friendly Exhibition" were created to raise exhibitor awareness. The fee for the disposal of residual waste is higher to encourage exhibitors to minimise non-recyclable waste.
The office paper used in the administration building is 100 % FSC-certified. Ongoing digitalisation measures are expected to further reduce paper waste (implementation of the "paperless office" – for example, digital minutes from meetings are implemented using SmartSheet).
To reduce its CO
2
footprint, HMC uses 100% green electricity and heats its building nearly exclusively using residual heat from the district heating network, which will become more eco-friendly in future.
Regarding mobility, HMC is currently working on developing new options and implementing improvements. Electric carts, including the required recharging infrastructure, are in use, and all fossil fuel-powered cars have an emission classification of at least Euro 5-6. This is consistent with the "Guidelines For The Procurement Of Vehicles With Low CO
2
And Other Noxious Emissions" (Leitlinie für die Beschaffung von Fahrzeugen mit geringen CO
2
- und Schadstoffemissionen), which HMC has subscribed to under the Climate Partner Agreement to minimise emissions. From mid-2021, HMC's company cars will be successively converted to hybrid vehicles. Beginning in 2022, numerous e-car charging stations will be installed in HMC's indoor car parks as part of the ELBE project.
Visitors have the option to travel to the HMC premises using a subsidised and CO
2
-free Deutsche Bahn train ticket. The same applies to exhibitors. Furthermore, gathering at one large, central venue to present goods and services avoids multiple supplier and customer journeys across the country to offer or inspect products because all interested parties can be together at the same time and place. A single trip to a central meeting place of all exhibitors reduces emissions by avoiding individual trips to each exhibitor.
The indicators relating to resource utilisation are detailed in Key Performance Indicators 11-12.
Also refer to:
"
Our Contribution to The United Nations' 17 Sustainable Development Goals
"