The company discloses how innovations in products and services are enhanced through suitable processes which improve sustainability with respect to the company's utilisation of resources and with regard to users. Likewise, a further statement is made with regard to if and how the current and future impact of the key products and services in the value chain and in the product life cycle are assessed.
Surveys and studies have confirmed the positive social and economic impact of the activities of Hamburg Messe und Congress GmbH (HMC). According to the latest employee survey in 2019, employee satisfaction is increasing. A study conducted by the Munich-based ifo Institute of Economic Research in 2016 attests to the positive social and economic effects throughout the region [for details please refer to Criterion 2].
In a longer-term project initiated in 2020, many processes are being digitalised ("Digital Transformation"). The progressing transition to New Work calls for continuous adjustments to adapt to new conditions while challenging conventional strategies and approaches. To support this adaptation process, a Chief Digital & Information Officer was first appointed in 2020 who is in charge of the development and company-wide coordination of HMC's digital transformation activities. Developing employees' "digital skillsets" is considered a high priority at HMC and supported by training programmes provided through the HMC-Academy. Digitalisation will change the reality at work in general and many job descriptions in particular. This became especially evident in the context of the coronavirus pandemic in 2020 when a substantial portion of work processes had to be digitalised. HMC successfully created remote working opportunities for all employees rapidly.
Because of the pandemic, many events were unable to take place as planned. Nevertheless, WindEnergy Hamburg 2020, the IDX_FS Expo powered by INTERNORGA 2021, and SMM 2021 were held as digital trade fairs. Digital event formats will continue to be a key field of activity in the events industry going forward.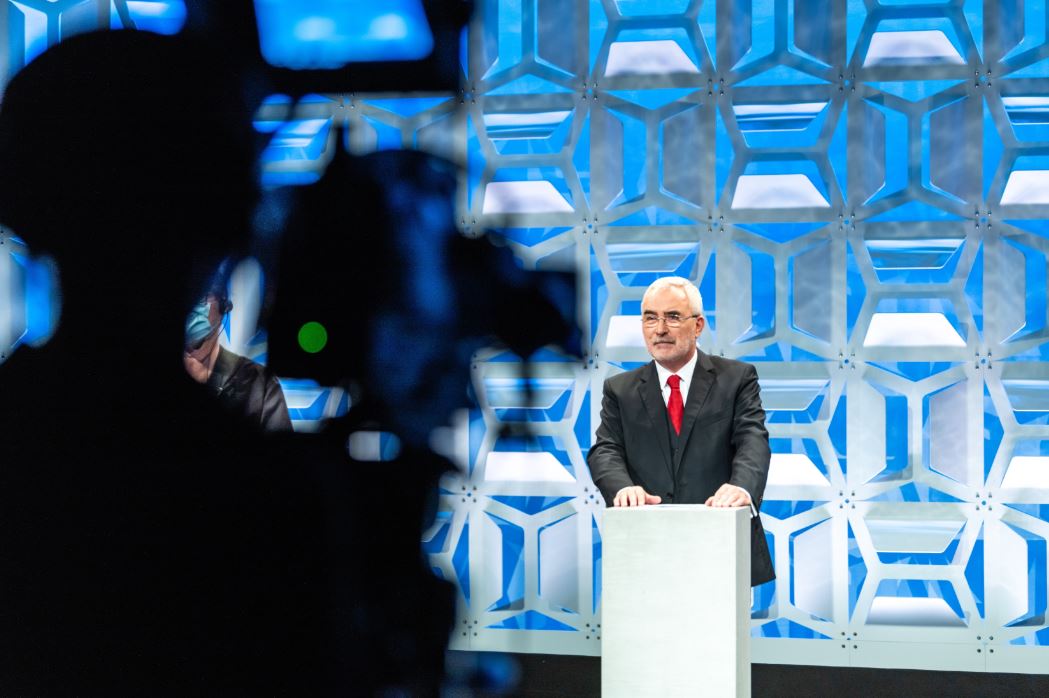 © Hamburg Messe und Congress / Nicolas Döring
"Our experience has confirmed our view that digital formats will play a much more important role in supporting physical trade fairs in future without being able to fully replace them," says Bernd Aufderheide, HMC President and CEO.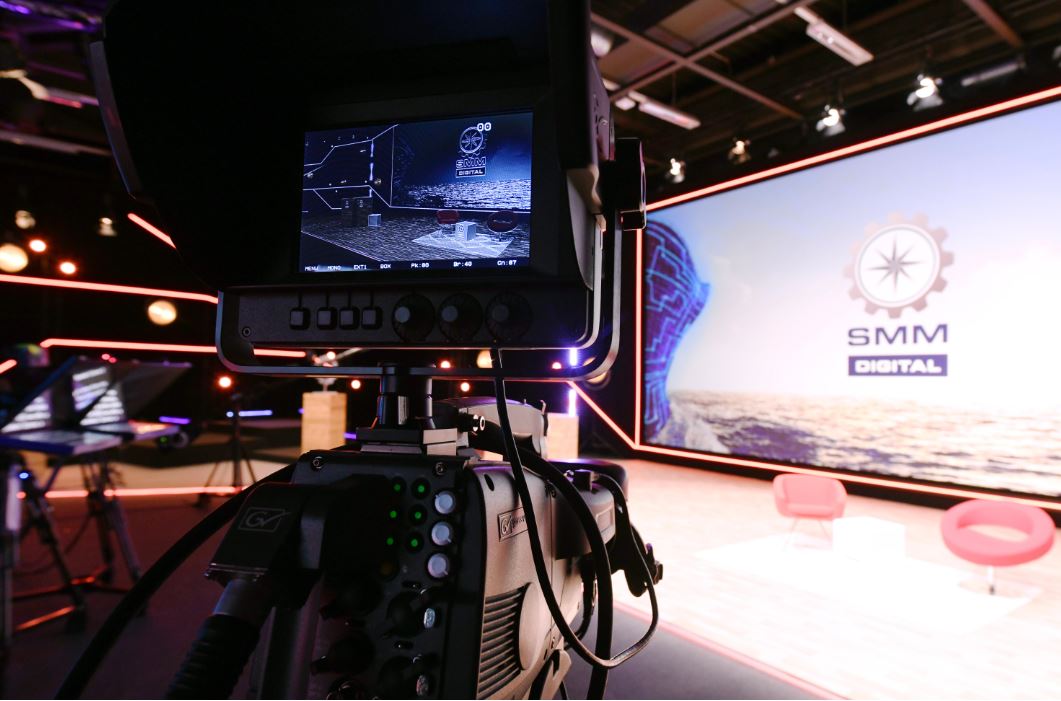 © Hamburg Messe und Congress / Michael Zapf

To ensure utmost safety on the exhibition campus in times of the pandemic, HMC not only developed comprehensive Safety and Health Strategies. In 2020, HMC also installed UVC air sanitation devices in the central ventilation systems for the public spaces of Halls B1 to B4 and the East and South entrance areas as a precautionary measure in response to the coronavirus pandemic (refer to Health and Safety Guidelines, Article 3).

To reduce emissions during the assembly and disassembly of exhibition stands, HMC has implemented a slot system for its logistics contractor's vehicles since 2018. Lorries are directed to various waiting areas in Hamburg where they remain until called to the exhibition campus for unloading or loading. This reduces emissions and saves time.

The "Guidelines For Organising Events Sustainably" (German only) contain additional suggestions for sustainability enhancements when preparing an event and assembling stands, during the event itself, during disassembly, and for recycling of materials. Working with experienced trade fair and stand construction contractors further supports an effective event life-cycle.

The innovative revitalisation of the CCH – Congress Center Hamburg placed great emphasis on the implementation of sustainable development right from the planning stages. The new CCH meets all relevant current standards. Its smart features make it one of Europe's largest, most advanced congress centres. This includes an air conditioning system which uses the natural cooling effect of the adjacent Planten un Blomen Park to cool down the building during the summer months, eliminating the need for technical cooling equipment. This will conserve large amounts of energy. The goal has been to make this building sustainable at all levels and to earn 'Gold Status' in the certification system of the German Society for Sustainable Construction (DGNB). This would be the highest status any existing building can achieve.

The certification system accounts for the following properties, which are weighted nearly equally to create a meaningful overall assessment:
Economic quality,
ecological quality,
sociocultural and functional quality,
technical quality and
process quality.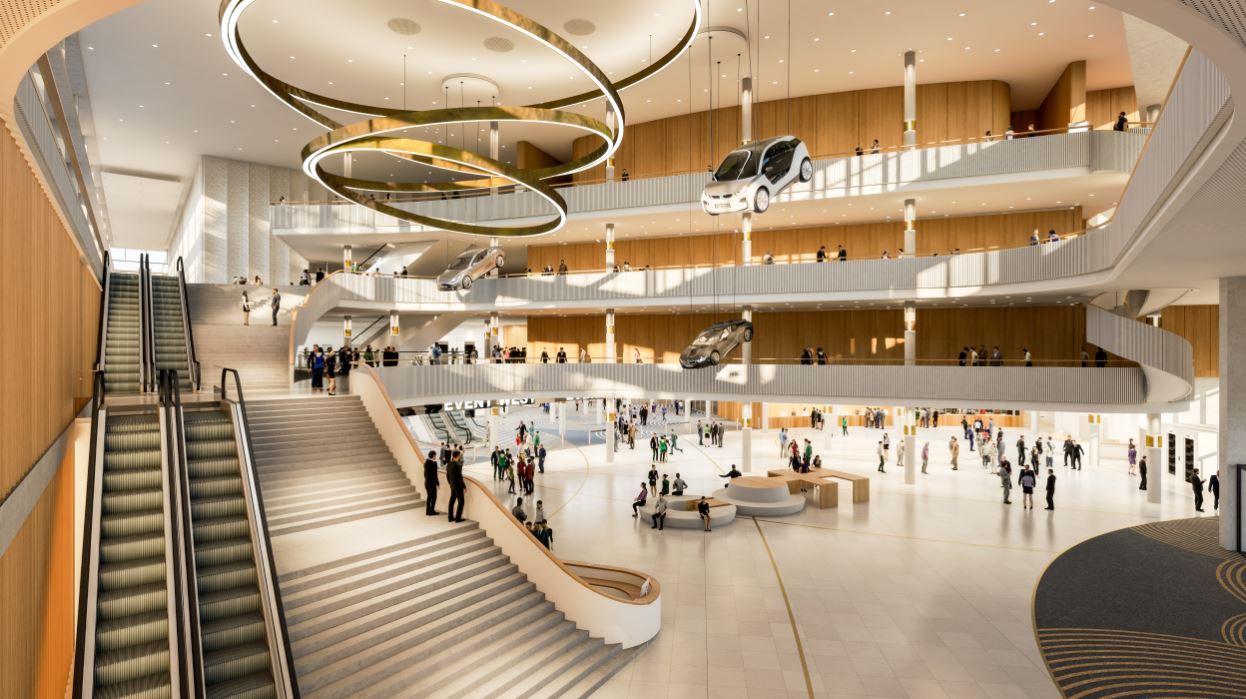 © Hamburg Messe und Congress / Planung Arbeitsgemeinschaft agnLeusmann mit TIM HUPE Architekten


By using 100 % green electricity as well as residual heat from a district heating network, the congress centre minimises the environmental impact of its event-related energy needs. Furthermore, the heating provider will gradually switch to regenerative energy sources in future.



By practising waste separation during events and ensuring proper recycling, the amount of waste is minimised while returning valuable resources to the productive material cycle. The service-booking-shop is gradually shifting to sustainable services. For example, a certified, fully recyclable cradle-to-cradle floor carpeting system has been offered as of 2022.

The HMC vehicle fleet is increasing its share of state-of-the-art electric carts and cars with a minimum emissions classification of Euro 5-6 while also successively converting to hybrid vehicles.

The positive impact of innovations becomes evident in HMC's CO2 balance sheet. Throughout all of these measures, HMC stakeholders are consulted, informed and encouraged to provide feedback.


Also refer to: "Our Contribution to The United Nations' 17 Sustainable Development Goals"