The company discloses how the socially and economically relevant stakeholders are identified and integrated into the sustainability process. It states whether and how an ongoing dialogue takes place with them and how the results are integrated into the sustainability process.
The relevant stakeholders of Hamburg Messe und Congress GmbH (HMC) can be identified by "stakeholder mapping", a method which allows to determine the expectations, needs, importance and power of individual stakeholder groups systematically. These include the following special interest groups, among others: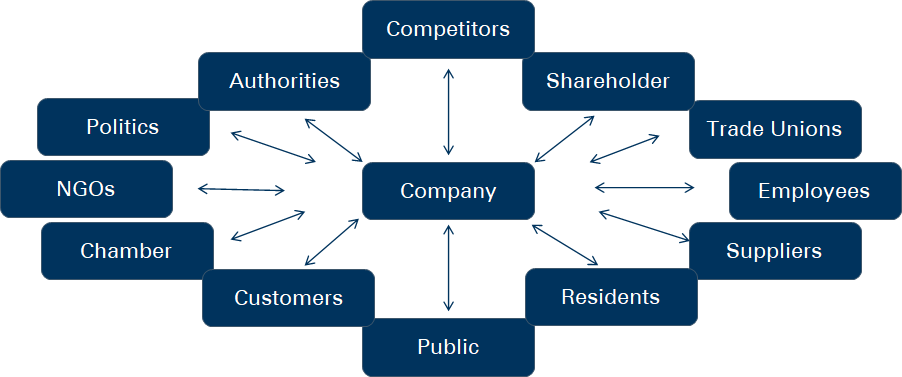 ©Hamburg Messe und Congress
In the case of the CCH – Congress Center Hamburg, the German Convention Bureau e.V. (GCB) and the European Association of Event Centres (Europäischer Verband der Veranstaltungscentren e. V., EVVC) are additionally relevant for sustainability-related matters as interest groups, through information events (e. g. Green Meetings and Events Conference), and as powerful networking groups.
HMC's shareholder, HGV, and the Free and Hanseatic City of Hamburg (FHH) are of particular importance for HMC as a public sector organisation. As such, HMC is committed to fulfil their guidelines and sustainability targets, such as the Climate Goals of the Senate of Hamburg. HGV, The Hamburg Asset And Corporate Investment Management Limited (Hamburger Gesellschaft für Vermögens- und Beteiligungsmanagement mbH), in its dual roles as shareholder and holder of supervisory board mandates, is under obligation to drive the implementation of sustainable goals and the pursuit of the public interest by its subsidiaries.
Moreover, HMC communicates with the authorities of the State of Hamburg (e. g., Department for the Environment, Climate, Energy and Agriculture; Department for Economy, Transport and Innovation) about sustainability topics on a regular basis. This allows HMC to seize opportunities for participation in informational events hosted by the authorities which address a broad range of topics, such as preparing sustainability reports or implementing climate protection goals.
Furthermore, the employees of HMC constitute a substantial stakeholder group. To enhance general awareness of sustainability issues, HMC organises surveys, activity days and incentives, especially with a focus on sustainable mobility. Additional information addressing current topics is published on the intranet and in newsletters, and relevant documents are made available to all employees. Staff are provided with opportunities to express their personal opinions on the intranet using a bulletin board in the Sustainability section, and are encouraged to contact the Sustainability Officer with any concerns or suggestions. Those employees who are members of the cross-departmental project group are involved especially deeply. The dialogue about continued development will further be supported in the short- to medium-term by the trained Energy Scouts who will communicate their well-founded suggestions regarding a more efficient use of energy and other resources. As of 2021, interactive seminars offered by the HMC-Academy will intensify the exchange of views and information about the subject.
Similarly, external organisations are important sources of input on sustainability management. Specifically, HMC is in constant dialogue with the Exhibition and Trade Fair Board of the German Industry (Ausstellungs- und Messeausschuss der Deutschen Wirtschaft e. V., AUMA), the Community Of Interest Of German Industry Fair and Exhibition Cities (Interessengemeinschaft deutscher Fachmessen- und Ausstellungsstädte, IDFA), and The Global Association of the Exhibition Industry (UFI). AUMA is the body which represents HMC's interests on the political stage. An initiative of the Joint Meetings Industry Council (JMIC), to launch in late 2021 within the scope of the "Net Zero" project, will help put the events sector on track to achieve zero emissions by 2050. This initiative consolidates the efforts of numerous companies of the events sector. HMC plans to subscribe to this joint initiative, as well.
As a signatory of the Climate Partner Agreement (Klima-Partner-Vereinbarung; since 2018) and a member of the Partnership for the Environment (UmweltPartnerschaft; since 2019), which includes membership in the Air Quality Partnership (Luftgütepartnerschaft; since 2020), HMC has several additional options for interacting with experts and improving its sustainability performance steadily. Within the scope of the Climate Partner Agreement, a so-called Sustainability Network (Netzwerk Nachhaltigkeit) was established to promote the exchange of information and experiences among the participating public sector organisations, and especially, the implementation of the HCGK code.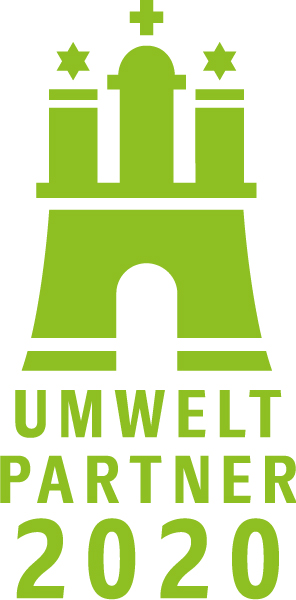 © Hamburg Messe und Congress / Umweltpartnerschaft der BUKEA
Exhibitors form another strong interest group, expecting sustainable implementation of their events, especially HMC-organised trade fairs such as WindEnergy Hamburg, SMM and INTERNORGA but also guest events such as Heldenmarkt. Furthermore, HMC supports ecologically sustainable event participation by offering exhibitors its "
Green Guidelines for Exhibitors To Ensure An Eco-Friendly Exhibition
".
Visitors represent yet another strong interest group which is consulted in surveys and kept informed through newsletters. The means of transport used by events visitors is a highly relevant sustainability issue.
An online survey will identify key spheres of activity as perceived by the above-mentioned stakeholders. In the medium- to long-term, sustainability will be incorporated into the training workshops for HMC executives. The Executive Board is convinced that climate protection must be approached as a cross-enterprise challenge in order to achieve progress. It therefore believes it to be essential to integrate climate protection as a task at all levels of the value chain, including HMC's own business operations. The HMC website disperses
Corporate Social Responsibility
(CSR) -related information to all interested parties.
Also refer to:
"
Our Contribution to The United Nations' 17 Sustainable Development Goals
"