The company discloses how the socially and economically relevant stakeholders are identified and integrated into the sustainability process. It states whether and how an ongoing dialogue takes place with them and how the results are integrated into the sustainability process.
The following stakeholders and topics have been identified. These stakeholders have already been identified prior to the recertification of DIN ISO 9001:2015 (4.2 Understanding the needs and expectations of interested parties).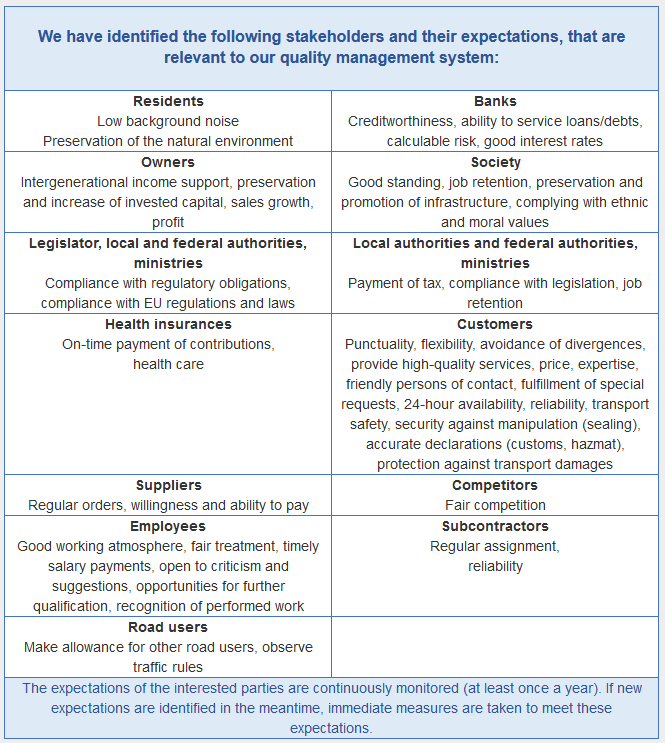 We pay attention to taking sustainability aspects into account in our daily actions.
Residents
For the first time, we invited local residents and all interest people to an "Open Day" at our headquarters in 2019, such that they are able to get to know the company and its activities better. We advertised this "Open Day" by means of invitations and posters.
Banks
We regularly meet with our commercial banks.
Customers
Our customer account managers are in permanent contact with our customers and there is an annual customer survey. We regularly visit our customers.
Employees
There are annual employee dialogues. Furthermore, we ask our teams about the need for training and hold workshops and promote further education.
Local authorities
We are in constant contact with the local authorities and their monitoring functions.
Suppliers
There are annual supplier evaluations and regular meetings between the CEOs and major suppliers.
Subcontractors
Every year, our subcontractors are asked to submit current documents (EU licenses, insurance certificates, certificates) and the validity of these documents is stored in our forwarding software.
The results of these discussions are documented and evaluated during internal audits and management reviews.