The company states what significance aspects of sustainability have for added value and how deep in the value chain the sustainability criteria are verified.
The definition of the value chain of Hamburg Messe und Congress GmbH (HMC) follows the principles described by Kopeinig and Gedenk (2005) in "Kölner Kompendium der Messewirtschaft: das Management von Messegesellschaften" (Cologne Compendium of the Trade Fair Industry: Managing Trade Fair Organisations). The Cologne Compendium proposes to subdivide the value chain into three phases: before, during and after the event.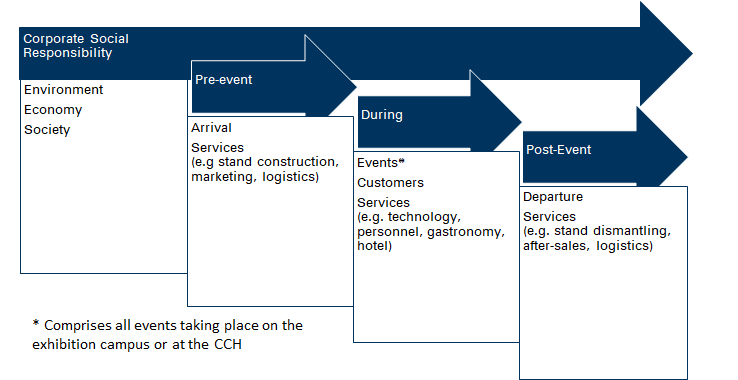 ©Hamburg Messe und Congress



The core business of HMC as a service provider comprises the execution of events organised by HMC or third parties as well as international events: "the bringing together of visitors and exhibitors at a specified place and time [...], the presentation of industries, companies and products (Kopeinig und Gedenk, 2005, p. 231). This is supplemented by individual services during all three phases which are either provided in-house or through service partners, based on the make-or-buy principle. These are either primary activities such as conducting requirements analyses, designing and planning activities, sales and implementation, or secondary, supporting activities, for example accounting and controlling, data-processing, facility management (cleaning, security services, maintenance etc.). Some of the secondary activities are outsourced. For example, HMC may contract an external company to clean the exhibition halls and the administrative building (facility management).



Pre-event activities focus on business travels and services such as exhibition stand construction, marketing and logistics. HMC cooperates with Deutsche Bahn, the German railway company, to offer visitors carbon-free travelling to and from its facilities. In stand construction, reusable stand designs as well as carpeting tiles are used wherever possible. HMC collaborates with experienced stand construction firms. Furthermore, the logistics provider's vehicle guidance system has been upgraded to optimise traffic on the exhibition campus and minimise emissions (both CO2 and noise).

During an event, there is a need for technical services, staffing, catering and hotel services. All technical equipment is expected to be state-of-the-art and energy-efficient. HMC generally outsources catering services to partners who have an active sustainability concept of their own. For example, our catering provider Käfer gives priority to regional, seasonal and organic food and calculates quantities for the expected number of persons as precisely as possible to avoid wasted food. Any leftover food is recycled to generate biogas.

Post-event activities are similar to pre-event activities, including stand disassembly, logistics and travelling services. Supplementary activities include after-sales-service and others.

One well-known issue associated with trade fairs and congresses is waste created during assembly and disassembly as well as during the event itself. To minimise waste, HMC works with innovative service partners. These efforts include trade fair-specific waste-reduction measures such as those mentioned above: use of carpeting tiles as reusable flooring, or offering standard, pre-fabricated exhibition stands to exhibitors. Carpeting tiles can be reused many times and are subsequently recycled for use in furniture upholstery. Ready-made exhibition stands can likewise be reused multiple times and do not have to be disposed of after an exhibition. They help conserve valuable resources. Exhibitors are required to follow HMC's Technical Regulations, which include mandatory sorting of waste. What is more, HMC's "Green Guidelines for Exhibitors To Ensure An Eco-Friendly Exhibition" raise awareness about the above-mentioned waste issue and about other sustainability considerations during an exhibition. For further information regarding sustainability at HMC please refer to the HMC-website.

As a wholly-owned subsidiary of the Free and Hanseatic City of Hamburg (FHH), HMC also applies the "Guidance For Ecologically Responsible Procurement of FHH" (Leitfaden für umweltverträgliche Beschaffung – German only) and the "Guidelines For Organising Events Sustainably" (Leitfaden für die nachhaltige Organisation von Veranstaltungen – German only) as issued by the German Federal Ministry For Environmental Affairs, Nature Conservation and Nuclear Safety and the German Federal Environmental Agency (Umweltbundesamt).

The Executive Board is convinced that climate protection must be approached as a cross-enterprise challenge in order to achieve progress. It therefore believes it to be essential to integrate climate protection as a task at all levels of the value chain, including HMC's own business operations, always with economic feasibility in mind. This principle was first established in the company's 2009 sustainability concept. HMC plans to make sustainability a more prominent criterion when awarding future contracts. This will encourage third parties to sharpen the focus on sustainability, especially with regard to minimising waste and emissions. Many of HMC's service partners have taken part in the Materiality Analysis survey [refer to Criterion 2].