The company discloses what qualitative and/or quantitative as well as temporally defined sustainability goals have been set and operationalised and how their level of achievement is monitored.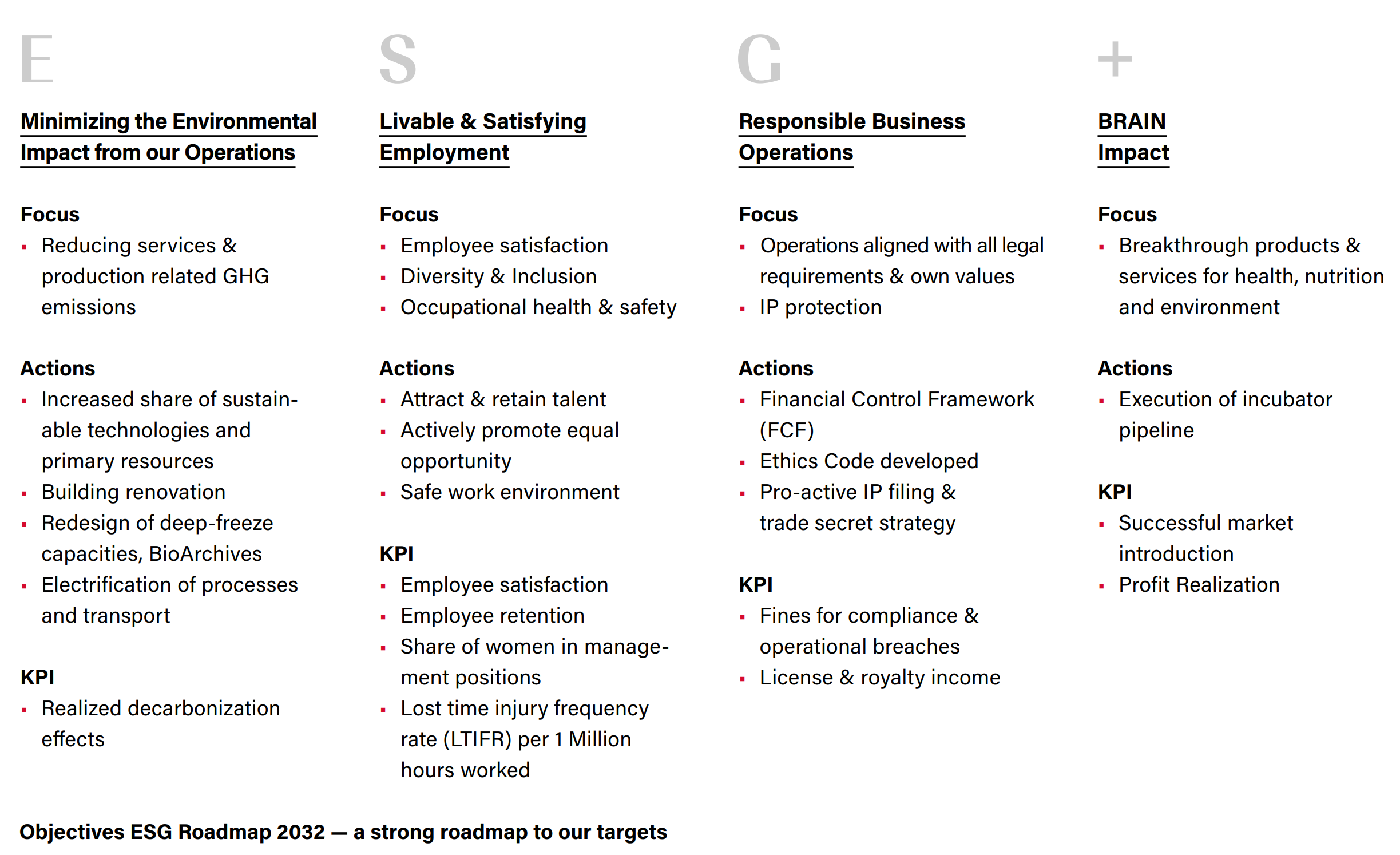 The following goals are prioritised as a result of our materiality and stakeholder analysis:


A reduction in GHG emissions from our own operations, to support a higher share of women in management positions, complete compliance with statuary regulations and own values. In addition, we aim to increase the share of recurring income from royalty income and to successsfully lounge or impact products to the market which will allow for a stable economic basis to grow operations and support our ESG targets.


Environmental
By 2032
, reduce Scope 1-2 GHG emissions by 30% in relation to current revenue base
By 2050
, Scope 1-2 GHG emissions to net zero
Social
By 2032, share of women in management positions above 30%
By 2032,
Lost time injury frequency rate (LTIFR) per 1 Million hours worked < 3
Governance
By 2032, Target zero fines from compliance & operational breaches
Ongoing
, significantly increase share of license and royalty income in BioScience in relation to revenues
Impact Products & Services
By 2032, successful market Introduction of impact products & services from today's incubator
By 2050
, launch additional incubator products with an impact
Monitoring of Sustainability Targets
The CEO of BRAIN Biotech AG, Adriaan Moelker, takes responsibility for the overall implementation of our sustainability strategy on the executive board level. In charge of the operational execution is Michael Schneiders, Head of Investor Relations & Sutainability. The entire supervisory board advises and monitors ESG implementation into business as well as strategic planning.
Non-financial KPIs which include sustainability targets are part of the variable executive compensation. As such the general compensation system is approved by the annual general meeting, monitored by the supervisory board and reported within the annual report. In addition, we will publish regular updates to our inaugural sustainability report and an annual UN Global Compact COP.
Supporting the UN-SDGs