The company discloses the aspects of its business operations that have a significant impact on sustainability issues and what material impact sustainability issues have on its operations. It analyses the positive and negative effects and provides information as to how these insights are integrated into the company's processes.
As a Hamburg public sector organisation, Hamburg Messe und Congress GmbH (HMC) is under obligation to fully implement the FHH goals at all times in fulfilment of its responsibility towards society and the City of Hamburg. Therefore public sector organisations bear a major portion of the responsibility to secure various infrastructure systems and provide specific services to the population (outside-in).
HMC's exhibition site and the CCH – Congress Center Hamburg are centrally located in Germany's second-largest city, in the immediate vicinity of Planten un Blomen Park. Excellent public transport connections and close proximity to the inner-city are major benefits to staff, visitors, exhibitors and the general public (outside-in). According to a study conducted by the Munich-based ifo Institute of Economic Research in 2016, HMC permanently secures 4,124 jobs in Hamburg alone. The same study stated that in non-pandemic times, the (direct and indirect) effects of events held in Germany on purchasing power amount to roughly 734 million euros spent on services, in general commerce, in the hospitality sector and at cultural events. This added purchasing power unfolds about 56 % of its potential in Hamburg (411 million euros), and roughly 44 % (323 million euros) in the rest of Germany. As many as 658,000 overnight stays per year can be attributed directly to HMC activities. Every year more than 40 trade fairs take place in Hamburg, drawing 15,000 exhibitors and approximately 700,000 visitors in total (inside-out).
From an ecological viewpoint, however, this harbours significant risk in connection with the production of waste, something that cannot be avoided in the trade fair and congress business. Therefore HMC takes specific action, for example, to reduce the production of waste while making sure that as much unavoidable waste as possible is recycled or disposed of properly (inside-out).
The 87,000 m
2
exhibition area represents a significant amount of sealed soil. To compensate, measures such as the roof garden above Hall H of the CCH – Congress Center Hamburg (one of Europe's largest herbaceous plant rooftop gardens) provide extra water seepage surface, biodiversity and an additional watering resource for the adjacent park (inside-out).
Furthermore, high emissions caused by journeys to and from venues play an important role in the events industry (inside-out). In the case of HMC, the location of the complex in the inner-city keeps travelling distances short, especially for pedestrians and users of public transport. This reduces traffic as well as emissions (outside-in). By implementing an effective sustainability management approach, additional incentives for low-emission, climate-neutral travelling will be created and communicated in future.
Sustainability is thus perceived as a highly relevant topic in the trade fair and congress sector. Ultimately, sustainability is considered as a key standard by which HMC is increasingly measured as a trade fair and congress organisation. HMC has been addressing sustainability actively for many years. An inadequate amount of attention to this topic in HMC's business operations would put the trade fair and congress sector in a disadvantageous position. In fact, sustainability is a major competitive factor, one that HMC's stakeholders expect the organisation to take seriously. HMC plans to integrate sustainability in its new corporate strategy as of 2021.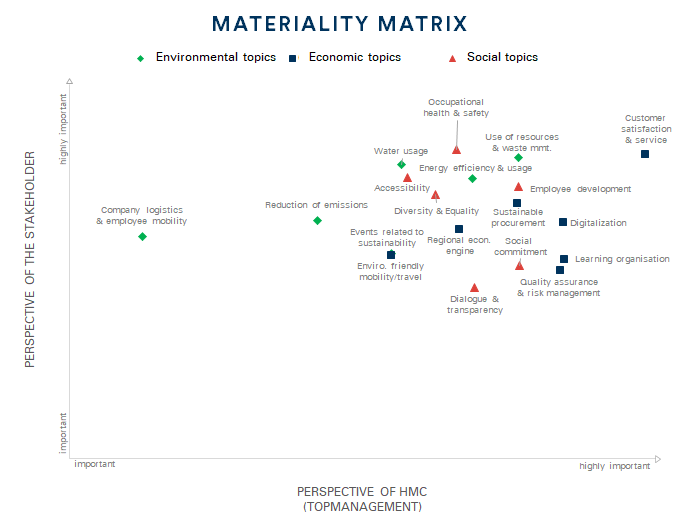 ©Hamburg Messe und Congress
A materiality analysis was conducted to determine the most relevant sustainability aspects. For this purpose, HMC carried out its first-ever stakeholder survey, asking respondents to assess a wide range of environmental, economic and social issues. The outcome of the survey confirms the high relevance of all these topics from the perspective of both, HMC and its stakeholders. Stakeholder respondents taking part in online survey largely comprised visitors and exhibitors. The diagram reflects HMC's tendency to place greater emphasis on business issues (such as customer satisfaction and service, digitalisation, quality assurance, risk management), whereas the responding stakeholders primarily focus on environmental and social aspects (including operational logistics and employee mobility, emission reduction, barrier-free access). Furthermore, respondents were given an opportunity to submit suggestions of their own. Their feedback covered a multitude of subjects, such as greening exterior surfaces, as well as specific suggestions, for example abolishing "trade fair ticket ribbons". These responses helped identify relevant spheres of action and define goals to further the cause of sustainability.
Regular meetings of the Partnership For The Environment (UmweltPartnerschaft) and the Climate Partners Agreement (Klima-Partner-Vereinbarung) are additional sources of inspiration for further action.