The company discloses the aspects of its business operations that have a significant impact on sustainability issues and what material impact sustainability issues have on its operations. It analyses the positive and negative effects and provides information as to how these insights are integrated into the company's processes.
Key sustainability aspects have been identified by means of a materiality analysis. We consider the following topics that can be assigned to the economy, ecology and social sphere to be of particular importance: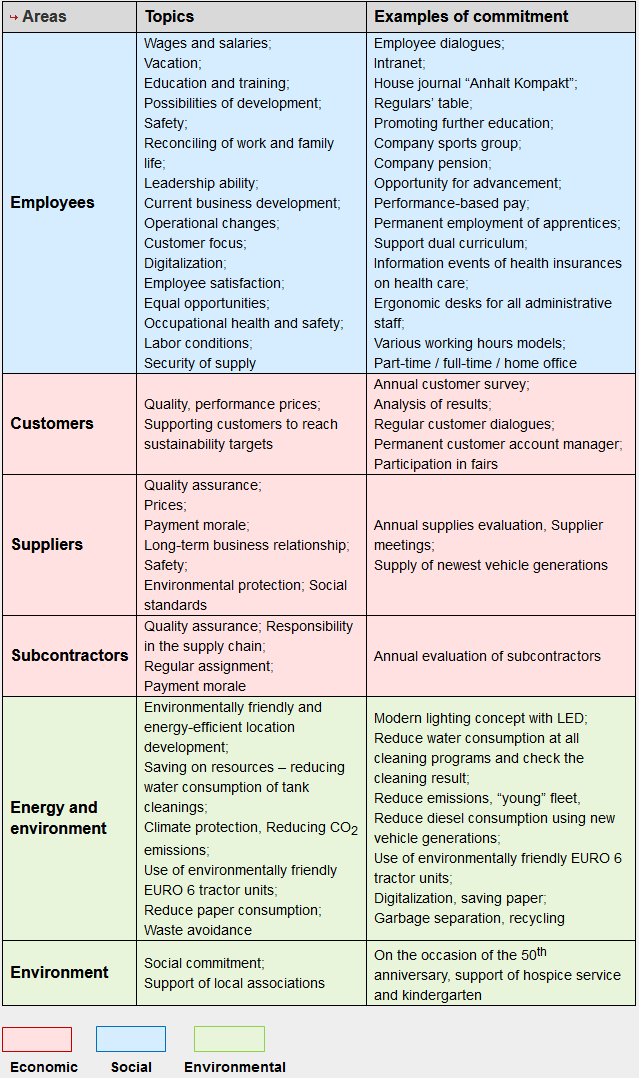 Particularities in the environment:
Emissions from the diesel consumption of our truck fleet pollute the environment. The identified topics in the field of "energy and environment" (as described above) react to these negative effects and offer opportunities: For example, we try to relocate as many transports as possible to the intermodal sector to reduce global warming. In this regard, we are able to further increase transport volumes in the intermodal sector in the future.


To counteract the shortage of skilled workers and the shortage of professional drivers, we installed a driver support team some years ago to support our drivers such that they have a permanent contact for their worries and needs. We train in the following professions:
Management Assistant for Freight Forwarding and Logistic Services
Automotive Mechatronic with Focus on Commercial Vehicles
IT specialist, specialization system integration
Driver
Warehouse Logistics Expert
We gladly offer our trainees a fixed contract after their apprenticeships. In general, we offer interesting employment opportunities in the rural area - which is a special feature in this rather structurally weak area.


As a family-owned company, Anhalt Logistics pursues a forward-looking company policy which includes sustainable action, such that it uses environmentally friendly and resource-conserving technologies and focusses on an effective route planning to avoid empty miles. Regularly monitoring the fuel consumption and promoting fuel-efficient driving behavior is a matter of course for us.

All the tanks of our tractor units are equipped with a tank sensor, providing our IT-supported "Diesel management" always with up-to-date tank data. From this data, different evaluations per vehicle can then be generated. We use the latest developments in the commercial vehicle industry; low fuel consumption and emission levels are important procurement criteria to us.


Digitization was further advanced in 2019 and we see this as a great opportunity for securing the future and process efficiency. As a result, we are equipped for the increased digital customer requirements.