The company declares whether or not it pursues a sustainability strategy. It explains what concrete measures it is undertaking to operate in compliance with key recognised sector-specific, national and international standards.
At Hamburg Messe und Congress GmbH (HMC), Corporate Social Responsibility (CSR) means doing business responsibly and sustainably, not only in an economic sense but also with regard to ecological and social aspects.
In its business operations HMC places great emphasis on sustainability. According to the "Guidance For Ecologically Responsible Procurement" (Leitfaden für umweltverträgliche Beschaffung) issued by the Free and Hanseatic City of Hamburg (FHH), "[Hamburg] has borne the title 'Fairtrade Town' since 2011, received the European Green Capital Award for 2011, and joined the Network of German Bio Cities in 2016. In its 'Agenda 2030', the United Nations agreed on 17 Sustainable Development Goals (SDG) in 2015. And: Hamburg is implementing the Agenda 2030." HMC considers this a special obligation and responsibility.
As a wholly-owned subsidiary of FHH, HMC is committed to doing its share to implement the climate protection policy set forth by the Senate of the City of Hamburg. HMC has documented its principles of operational climate protection in its
Climate Protection Policy
.
Sustainability and responsible business conduct are deeply engrained in the corporate culture of HMC. They provide the basis for the trust our stakeholders place in HMC. HMC constantly pursues sustainable solutions, whether as a trade fair organiser, an employer, or a site operator.
Our all-encompassing corporate strategy is based on the HMC Code of Conduct ("Trust, Responsibility And Performance"), our integrated Corporate Compliance Programme, the appointment of Compliance, Equality and Sustainability Officers, as well as appropriate training programmes for all employees.
HMC's corporate responsibility spans numerous economic, ecological and social spheres of activity: HMC is committed to pursuing objectives such as climate and environment protection as well as compliance, occupational health and safety, and data protection with the same rigor we apply to ensuring responsible, sustainable business operations. In particular, this includes a sustainable energy supply and a focus on energy efficiency.
As early as 2009 HMC incorporated climate protection in its corporate policy as a permanent goal [please refer to Criterion 6]. This includes highlighting how every employee can contribute to the protection of the climate in their daily activities. HMC was guided by the idea that it is possible to protect the climate in ways which go beyond major projects, such as retrofitting LED lighting throughout the exhibition halls and car parks to reduce energy consumption significantly. Many small steps taken by HMC and its employees in their day-to-day activities can likewise contribute to the reduction of air pollutants. Moreover, through its events HMC can raise awareness among exhibitors, visitors, participants and the public about suitable technical solutions and methods to enhance climate protection while highlighting the importance of managing our natural resources more sustainably.
In the follow-up to its Climate Protection Plan (2019) and through its new Climate Protection Act (2020), the Senate of the City of Hamburg has taken two important steps enabling Hamburg to achieve its climate protection goals. The city's CO
2
emission are to be reduced by 55 % by the year 2030 (based on 1990 levels). And by 2050 the city wants to cut emissions by at least 95 % as it endeavours to achieve climate neutrality. Furthermore, all of the city's public sector organisations are to be climate-neutral as early as 2040. The FHH Climate Strategy boosts the city's climate protection efforts as it continues to work towards becoming a city that is well adapted to coping with climate change. Four transformation pathways – the heating, mobility, economic and climate transformation – define strategic areas of focus for this transition. The Climate Plan comprises a wide range of specific measures designed to achieve the required low level of CO
2
emissions by the year 2030. The new Climate Protection Act provides a binding legal framework for these efforts. HMC contributes to the FHH climate goals in every conceivable manner.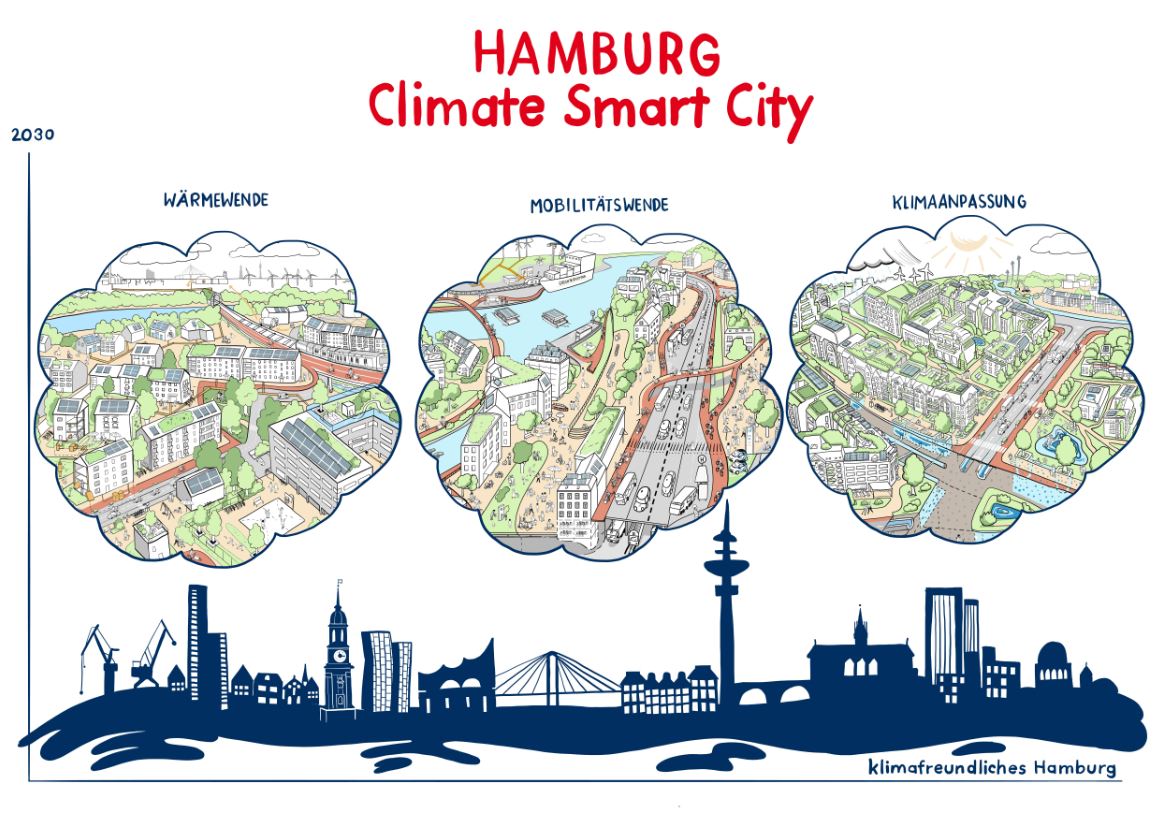 Transformation paths in the Hamburg Climate Plan © Behörde für Umwelt, Klima, Energie und Agrarwirtschaft (BUKEA)
Since 01 January 2020, sustainability has been a mandatory requirement for all public sector organisations as per the Hamburg Code of Corporate Governance (HCGK).
In addition, HMC bases its commitment to reconciliation of economic interests with ecological and social causes on the United Nations' 17 Sustainable Development Goals (SDGs). HMC pledges to follow these principles of sustainable operation in every respect as a fundamental element of its corporate culture. HMC's specific activities in pursuit of the SDGs have been published in detail on its
corporate website
.
A fundamental new corporate strategy will be introduced during the year 2021. It endeavours to transform HMC into a "learning organisation" and integrates sustainability as one of four stategic pillars.