The company states what significance aspects of sustainability have for added value and how deep in the value chain the sustainability criteria are verified.
As a service provider in the logistics sector, Anhalt Logistics does not have the usual value-chain a manufacturing company has. The business activities in the field of logistics are: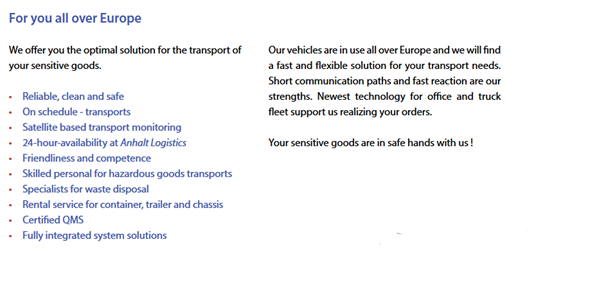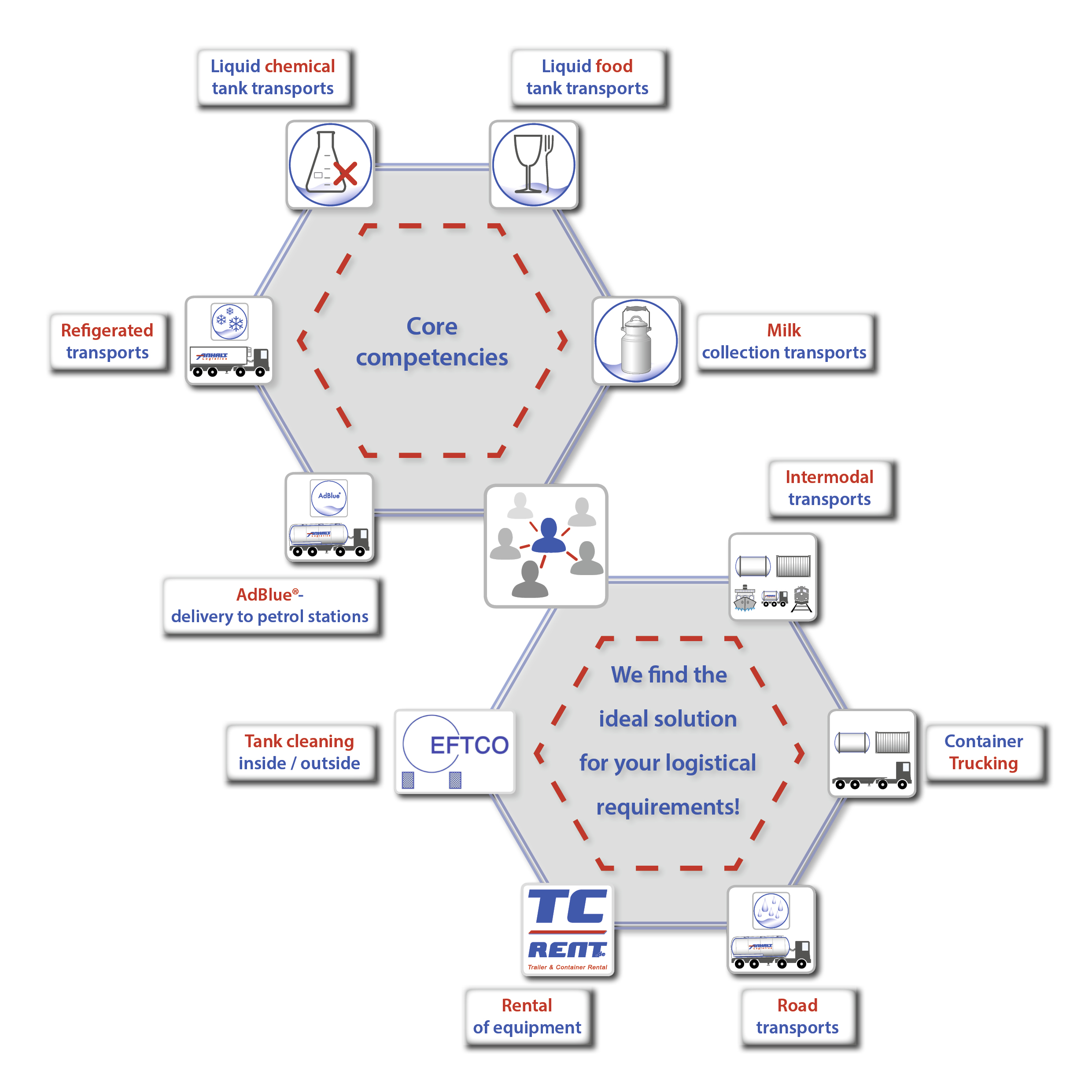 To provide the above services, the support of the many divisions of Anhalt is required:
Location Management, Human Resource Management, Office Administration, Driver Support, Claims Management, Fleet Management, Tank Cleaning, Vehicle Workshop, Quality Management, Marketing, Warehouse/Transshipment, Logistics Road Trucking Duisburg, Foodstuff Alcohol, AdBlue, Refrigerated/Milk, Trucking Nord, Foodstuff, Chemical, Intermodal, Acquisition, Sales/Purchasing/Customer Support, Controlling, IT Services, Diesel/Toll, Accounting.
Transportation is a part of the supply chain. Active measures can lead to less CO
2
emissions and resource conservation. In the procurement of vehicles and in the transport and tank cleaning operation, Anhalt pursues the following measures:
Vehicle procurement measures:

To keep the environmental impact of our transport activities as low as possible, the commercial vehicles manufacturers are asked to provide us with tractor units that have a low average fuel consumption, meaning they generate less greenhouse gas emissions. The greenhouse gas emissions at long-distance traffic/city traffic that the vehicle manufacturers provide us with are included in our purchasing decisions.


We regularly talk to our suppliers in order to be informed about the latest sustainability developments. When purchasing vehicles, we also pay attention to:
automatic start-stop
refrain from auxiliary headlights, air horns
low rolling resistance tires
low-friction oil
telematics systems
tire pressure
automatic gearbox
aerodynamic package with refrigerated trailers
Ecological measures throughout our operation:
To
save fuel
we conduct driver training and monitor the consumption by means of a tank sensor. The drivers are informed about the vehicle's fuel consumption. In case of a high average fuel consumption, drivers are receive training on fuel-efficient driving.
We aim to further increase the modal shift to combined transport. Combined transport can reduce emissions by up to 60%. The annual savings in emissions will be reported by e.g. "Kombiverkehr" with the number of transports and the CO2 reduction achieved after one year.
Moreover,
IT-supported route planning enables optimal route selection and time and costs savings;
avoidance of empty miles;
we separate our waste and thus promote resource reusability and conversation;
digitalization: Since 2019, we are carefully monitor paper consumption in order to set clear goals. Recycled paper is collected and picked up by a recycling company.
we treat sewage in our biological sewage treatment plant and thus reduce the discharge into the public sewage system.
Social measures throughout our operation:

Employee satisfaction
is important to us; we want to reduce employee fluctuation and keep our skilled employees.
employee training: annual assessment of training needs; implementation of employees' wishes of further training;
Anhalt's Code of Conduct: the behavioral rules of our company that are accessible via the Intranet;
different working time models: increase the attractiveness of jobs;
continuous improvement programs: encourage employees to suggest improvements to processes in order to design more efficient workflows;
family-friendliness: take the needs of families into account – we offer our employees to work part-time to enable parenting;
we train and invest in young talents;
we foster the individual developmental pathways of our employees;
regarding health promotion we are supported by the health insurances;
we support our employees with fringe benefits.
In the future, we are going to externally communicate sustainability topics by means o the DNK sustainability report because all relevant sustainability topics are addressed in this report.