The company states what significance aspects of sustainability have for added value and how deep in the value chain the sustainability criteria are verified.
The main activities of the cosnova business model include marketing, distribution and procurement of decorative cosmetic products. cosnova GmbH does not have its own production. The products are manufactured on a contract basis in Europe and Asia – 90 percent of all cosnova products are manufactured in Europe. The subsequent goods transportation of the finished products to our distribution center is largely commissioned and controlled by our suppliers.
1) Purchasing
The products of all our brands are manufactured under contract and can be divided into three groups. Standard products, which are sold in the standard range and are therefore on the market for at least six months, as well as the so-called "Limited Editions", which are produced in comparatively small quantities and are only available on the market for four weeks. Since the opening of our brand-owned online shops, there has also been a selection of "exclusive online" products, which are only available in the corresponding online shop. Our business model involves two to three main updates every year for the standard product range. A total of around 50 percent of the products are replaced each year. cosnova GmbH is currently working on the development and manufacturing of standard products with over 90 contract manufacturers from 19 different countries and over 25 contract manufacturers from nine countries for "Limited Edition" products.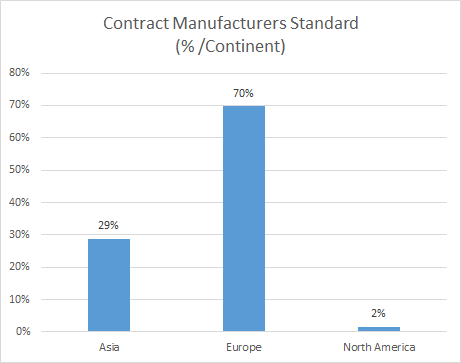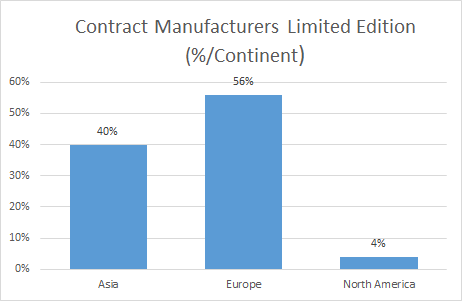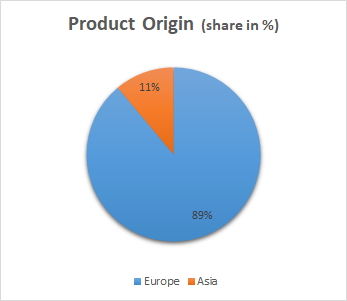 The significantly larger proportion of products in terms of volume is developed and produced in Europe, with the remainder originating in Asia. For products produced in Europe, delivery is "free domicile" to our logistics partner CNL. Products from Asia are delivered "free on board". The selection of these international trade clauses for the purchase of our products limits the scope for influencing the sustainability criteria with regard to the transportation of goods. Only in the case of "free on board" deliveries can the mode of transport and the choice of carrier be influenced by us. At present, however, there is no specific project in this area to reduce emissions or other negative effects on environmental or social aspects. Our requirements for suppliers are the same worldwide. These include recognition of our Code of Conduct, supplier audits and a sustainability assessment via EcoVadis. The EcoVadis assessment was carried out for the first time in 2017 and initially served to determine our status. In future, it will be used as an instrument to improve sustainability in our value chain. The EcoVadis methodology for the assessment of sustainability covers 21 criteria in four areas. These are the environment, fair labor practices, fair business practices and the supply chain. The methodology is based on international CSR standards, including the Global Reporting Initiative, the United Nations Global Compact and ISO 26000, which covers 180 purchasing categories and 150 countries. Full service suppliers, trade marketing suppliers and packaging suppliers are assessed. Status of the EcoVadis assessment 2018: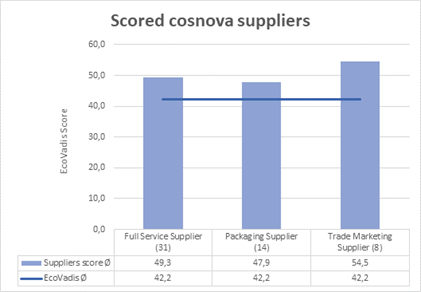 The purchase of cosmetic raw materials for the manufacturing of products is the responsibility of the respective contract manufacturer. Since 2015, cosnova has also started to analyze this part of the value chain and has included raw material management as a strategic sustainability topic. Beyond compliance with legal requirements, the raw materials are evaluated with regard to the environment, health and social aspects. The goal is a holistic improvement of the product portfolio. Particularly conspicuous raw materials are subjected to a special risk analysis, which in turn is used to develop and implement improvement strategies. Based on the results, special "CR requirements" (sustainability requirements) have been developed, which are communicated to our business partners and are a basic requirement for future product development projects. In addition, cosnova has been a member of the Responsible Mica Initiative (RMI) since 2017 and a member of the Responsible Beauty Initiative (RBI) since 2018, working together with other industry partners on more sustainable supply chains for problematic raw materials.
2) Logistics
In 2011, cosnova Beauty GmbH established the fully-owned subsidiary CNL GmbH to handle its logistics processes. CNL GmbH is thus the logistics partner of the cosnova Beauty Group and, with around 100 employees, handles all the necessary activities for incoming goods, order picking and dispatch preparation for the transportation of all cosnova products to customers and trade partners in more than 90 countries. Products for e-commerce are handled and shipped separately by an additional fulfillment provider. In 2016, a new CNL GmbH logistics center was built at the Butzbach site, with a total warehouse area of 27,427 square meters. With the construction of this logistics center and the associated modernization of the warehouse and logistics processes, cosnova GmbH has decided to become a member of Lean and Green - GS1 Germany. With its "Lean and Green" program, GS1 Germany offers companies in Germany the opportunity to make their logistics processes more efficient and environmentally-friendly. In addition to an increase in efficiency in our logistics processes and the associated cost reduction, we see a significant added value for us in the network expansion and exchange within the "Lean and Green" community. The goal is to reduce CO2 emissions by 20 percent within five years. As far as the concrete measures to reduce CO2 emissions are concerned, cosnova has drawn up an action plan which has been reviewed and confirmed by TÜV NORD. This action plan, which includes a calculation of all greenhouse gas emissions from our logistics processes, reduction measures and a monitoring method to support the overall goal of the GS1 "Lean and Green" initiative, must now be put into practice. GS1 monitors improvements and milestones on a regular basis.
3) Trade
The sale of our products to our customers, which include drugstores, grocery stores, department stores, perfumeries and fashion chains around the world, takes place at the point of sale. In addition, our products are also available through our partners' online shops and, since 2018, we have made our own online shops available for the three brands essence, Catrice and L.O.V directly through cosnova.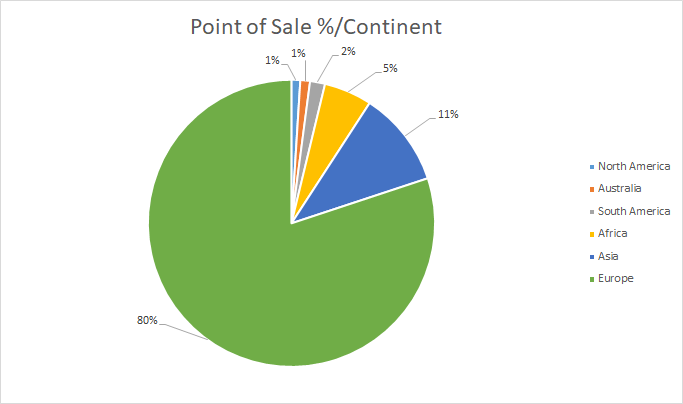 In our distribution structure, we distinguish between central customers, decentralized customers and international distribution customers/distributors. Central customers receive their goods exclusively from our distribution center, which delivers directly to the respective distribution centers of the customers. The branches are supplied by the central customers themselves. Our decentralized customers are supplied directly from our distribution center. For our international customers, mostly distributors, orders are collected from our distribution center and shipped by sea, overland or air freight. Due to the structures described above, cosnova GmbH has little influence on the sustainability criteria at this stage of the value chain. Nevertheless, there are continuous optimization projects, such as the sell-out processes, which contribute to the conservation of natural resources. The same applies to longer-term projects in the field of transport optimization in order to reduce emissions.
4) Consumer
Health and Safety
The health and safety of our consumers and their needs are very important to us. cosnova GmbH has its own internal Quality Assurance Department in order to meet our self-imposed quality requirements and to be able to control product quality even without operating its own production facilities. It goes without saying that all products are produced and marketed in accordance with the applicable European law. This includes, among other things, a safety assessment which guarantees the safe use of the products for the end consumer. In addition to this legal obligation, as cosnova GmbH we also carefully assess all our raw materials according to internal criteria. Unwanted substances are summarized in our so-called negative list, communicated to our business partners and are excluded from future development projects. Compliance with the negative list is confirmed by a signature of the respective contract manufacturer and renewed annually as part of the revision of the negative list. With the help of this process, we can therefore state that we apply even stricter and more stringent criteria in the selection of raw materials than are legally required. As part of our Sustainability Strategy and in order to continuously improve our products, an INCI analysis has been carried out since 2014 in addition to the quality assurance process described above. We also evaluate the cosmetic ingredients we use with regard to further health, environmental and social aspects. The assessments according to the "traffic light system" are directly incorporated into the internal quality assurance database on the one hand and serve as a starting point for projects in the area of sustainable raw materials management on the other. Customer Care takes care of the needs of the end customers in the course of our complaint management.
Consumer Application
Clean water and the protection of life under water are two relevant goals for sustainable development (SDG 6 and SDG 14). For this reason, we have asked ourselves to what extent our cosmetic products can represent a potential source of danger for water and bodies of water through their application by consumers. To this end, an impact study was conducted with cosmetic consumers. The process of removing our make-up products, including the question of whether and how often water is used for this purpose, must be considered. In addition, the final destination of the aids such as cotton pads, cotton buds, used cosmetic wipes or moist cosmetic wipes after their application played a role. The study showed that in the best case, only every fourth user completely removes make-up using water or initially removes make-up using water. In the worst case, however, every second user uses water at some point during the make-up removal process. Knowing that half of our products will then find their way directly into the waste water, there is a need to think about alternative raw materials in the most frequently used product categories (according to the study: eye and face). Special attention should be paid here to the biodegradability of the texture, but also to aspects such as Eco toxicity. A concrete pilot project was started after the study had been carried out, namely the exchange of micro plastic fillers of an eyeshadow texture. This is a lighthouse project that will be followed by others.
5) Waste Disposal
The last phase of the product life cycle is the disposal of the products. In the case of our products, the consumer should always dispose of them in the appropriate recycling bin or glass container. In the future, it is planned to provide targeted consumer information in order to improve the more sustainable use and disposal of our products and the make-up remover aids used. As part of our product philosophy, the packaging of our decorative products must fulfil many purposes and meet a wide range of requirements, such as appearance, feel, design, transparency, brilliance, cost and transport protection. In the past, there were no alternative packaging materials with a better environmental balance than conventional packaging that could meet these requirements. Currently, our product packaging is made of various materials, with glass accounting for the largest share, along with various plastics such as PP, PET, SAN, ABS and POM. In the last one to two years, it has been observed that packaging technology is clearly developing in a more sustainable direction, and so there are now more possibilities for environmentally-friendly packaging variants in the field of decorative cosmetics. We would like to follow this development and find out which materials are the most sustainable and realistic alternatives for us. To this end, an internal strategy workshop was held in the reporting year and several pilot projects were initiated with the aim of improving the ecological balance of our products. With the help of this workshop, a consensus was reached on the future strategic direction. In addition to the fundamental approach of completing cycles in order to become more recyclable, this also includes the increased use of recycled materials wherever possible and the use of monomaterials. However, the internal workshop also made it clear which special challenges will have to be solved in the future in the market segment of decorative cosmetics in order to make packaging materials recyclable. These include extremely small pieces (packaging smaller than 16 millimeters is automatically screened and incinerated in the sorting plant), the use of composite materials based on product requirements, product design, i.e. the selected colors and effects, as well as the use of large-format labels and product sleeves. The next step is to derive the sustainability targets for our packaging from the defined direction of impact and the challenges identified.