Bundesdruckerei-Gruppe
General

|

General Information
General Information
Company name
Bundesdruckerei-Gruppe

---

Company website
www.bundesdruckerei.de

---

Number of employees
500 - 4.999

---

Reporting year
2021

---

Indicator set

GRI SRS

---

Directly affected by the disclosure of non-financial and diversity information

No, but check the declaration of conformity in the sense of the CSR reporting obligation

---

Reporting on EU taxonomy

not subject to the reporting obligation and not reporting according to EU taxonomy

---

Contact

Bundesdruckerei Unternehmensgruppe

Mareike Ahrens Head of Corporate Sustainability

Kommandantenstr. 18

10969 Berlin

Germany

+ 49 (0) 151 – 4414 6829

mareike.ahrens@bdr.de
Describe your business model (including type of company, products / services)
The Bundesdruckerei Group offers "Made in Germany" solutions and products for secure identities, data and infrastructures. As a federal IT security company, we want to use these to create trust in the analogue and digital worlds, facilitate the sovereign actions of the state, companies and citizens, and thereby shoulder our responsibility to society. To this end, we offer products and solutions focusing on secure identities, secure data and secure infrastructure for the public sector and particularly vulnerable areas of society and the economy.
Bundesdruckerei GmbH collects, manages and encrypts data, produces ID and security documents such as the German passport and ID card as well as verification devices and associated system infrastructures. We also develop products for high-security infrastructures and for eIDAS
[1]
trust services, and assist our clients with secure digitisation. When it comes to these topics, the Bundesdruckerei Group relies on a focused research and development strategy in order to fulfil the technological and market requirements for digitisation and information security.
As digitisation has progressed, the demand of public authorities and companies for secure and compliant solutions has risen steadily in recent years. The COVID-19 pandemic provided and continues to provide further impetus. Digital transformation is the economic, social and technological driver of the near future. It is changing almost every aspect of life. This has opened up new business areas for the Bundesdruckerei Group, meaning that it offers, among other things, system solutions for the secure management of identities and data throughout their entire life cycle.
Furthermore, the printing of banknotes is part of the Bundesdruckerei Group's business portfolio, including the development and marketing of new security features and related system components. We also offer our customers authorisation documents and systems such as postage stamps, tax stamps and track-and-trace systems.
The Bundesdruckerei Group divides its activities into five business units:
German ID Systems
Credential Management Systems
Secure Digitalisation Solutions
Value Printing
Infrastructure & Service
On December 1st, 2020, the Bundesdruckerei Group adopted a new organisational structure in which Bundesdruckerei Gruppe GmbH acts as the parent company for its subsidiaries (see reporting boundaries) and is also responsible for managing the minority shareholdings.
---
[1]
eIDAS is the EU regulation on electronic identification and trust services for electronic transactions in the internal market and has been in effect since July 1st,, 2016.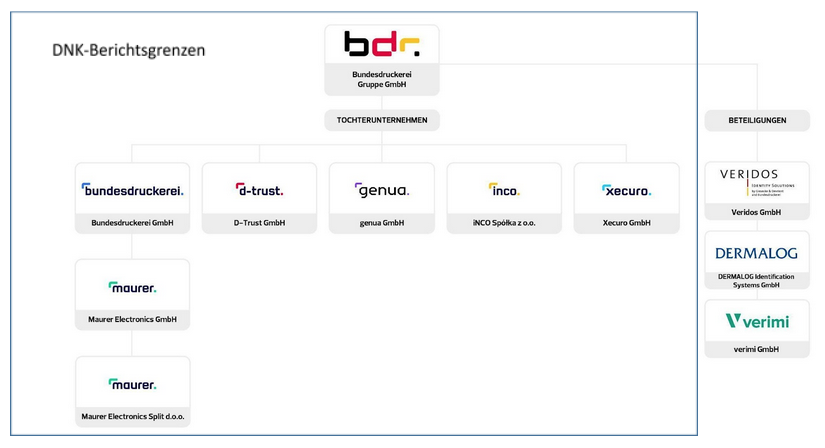 Reporting boundaries:
The following declaration and all information included there refer to the Bundesdruckerei Group. The term 'Bundesdruckerei Group' does represent a specific legal entity; it is primarily used for linguistic simplification and to distinguish it from the parent company Bundesdruckerei Gruppe GmbH, Berlin. It therefore covers all the legally independent, majority-owned companies within the group: namely the parent company Bundesdruckerei Gruppe GmbH, Berlin, as well as the subsidiaries Bundesdruckerei GmbH, Berlin, (including its subsidiaries Maurer Electronics GmbH, Munich, and Maurer Electronics Split d.o.o, Split, Croatia), D-Trust GmbH, Berlin, genua GmbH, Kirchheim bei München, iNCO Sp. z o. o., Wawrów, Poland, and Xecuro GmbH, Berlin. If any piece of information does not apply to the entire Group, the respective companies are explicitly named.
In accordance with Section 8.1.3 of the Public Corporate Governance Code of the Federal Government in conjunction with
Sections 315b et seq. of the German Commercial Code (HGB), Bundesdruckerei Gruppe GmbH is required to submit a non-financial group declaration in compliance with the CSR Directive Implementation Act. This takes the form of the following declaration of compliance with the German Sustainability Code.
Reporting year:
Unless otherwise stated, the data and reported content refer to the year 2021.