ARNO GmbH
General

|

General Information
General Information
Company name
ARNO GmbH

---

Company website
arno-online.com

---

Number of employees
< 250

---

Reporting year
2020

---

Indicator set

GRI SRS

---

Directly affected by the disclosure of non-financial and diversity information

No

---

Contact

Management Representative and Inhouse Consultant

Corinna Geltenbort

Daimlerstr. 10

72649 Wolfschlugen

Germany

07022 5001-46

c.geltenbort@arno-online.com
Describe your business model (including type of company, products / services)
ARNO
stages brands at the point of sale worldwide.
We are one of the leading companies in Europe for the three-dimensional design of brands at the point of sale. Family-owned and family-run by the third generation, we have built up extensive industry and functional expertise over the past 85 years, which enables us to work successfully with companies from all sectors internationally. For us, there are no standard concepts. We develop bespoke solutions based on close partnerships with our customers, suppliers and service providers.
As a medium-sized company, we are a full-service provider, offering everything from
design
to
installation
, from
displays
and
shop-in-shop
solutions to complete
interactive solutions
from a single source. In addition to economic goals, ecological and social aspects are natural components of product development. We combine the ideas of our customers with our own ideas and visions, always keeping in mind to generate added value for our customers and their customers with visually convincing, sustainable and economically sensible display solutions. We focus on creating a remarkable brand identity and creating unique worlds of experience that are convincing within the retail environment. Successful brand and retail companies around the world rely on our know-how to successfully position their brand at the point of sale.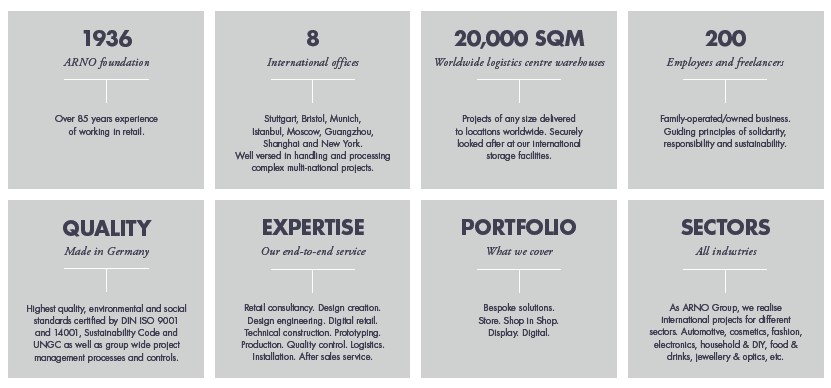 ARNO Digital specialises in the installation and seamless integration of digital elements into shop concepts. Through the specific use of direct and indirect technologies, we ensure that design and technology go hand in hand and add value for consumers. Digital elements include monitors such as Stretched Screens, Mirror Screens and Touch Screens as well as technologies such as Scan and Control, Air Button, Air Swipe, haptic sensor technology and many more. Our ARNO Lift and Learn technology offers the possibility to present products interactively, to compare them with each other and to create a very special shopping experience for consumers. The products, which are equipped with sensors, can not only trigger the coloured LEDs of the presentation platform when they are lifted, but also a screen which then displays product-specific content. In addition to the haptic experience, customers receive additional digital information and product comparisons that reinforce their brand awareness and the purchase decision.
Since 2021, we have also specialised in the production of furniture for working from
home surroundings
. The furniture we develop are produced at our headquarters in Wolfschlugen, meet ergonomic requirements and are only recognisable as workstations when the furniture is opened. After the furniture has been closed, there is no longer any sign of a workplace. This allows a clear separation between working and living. Our "Woody" home office unit is completely sustainable, made of FSC-certified wood and water-based lacquers. All in all, we have created the optimal solution for employers and employees who value a positive, pleasant working environment and health.
In 2020, the ARNO Group was represented in 6 European countries. The total turnover in 2020 was EUR 26,8 million. At its main location in Germany, ARNO GmbH generated EUR 21,1 million.
Decisive for the success of our company are our approx. 200 employees, who dedicate themselves to their tasks with commitment and flexibility. Through their sustainable, proactive thinking and actions, they generate the optimum for our clients and our company every day, without losing sight of the environment and their social responsibility.
Additional remarks:
This sustainability report is intended to make our actions transparent. It is aimed at customers, employees, suppliers, authorities, politicians and all other target groups who are interested in our activities and at the same time want to be informed about our values, guidelines, principles and our actions.

In addition, the ARNO Sustainability Report represents our Communication on Progress to the United Nations Global Compact, which we joined in 2020.