ROBUR Industry Service Group GmbH
General

|

General Information
General Information
Company name
ROBUR Industry Service Group GmbH

---

Company website
https://www.robur-industry-service.com

---

Number of employees
500 - 4.999

---

Reporting year
2020

---

Indicator set

GRI SRS

---

Directly affected by the disclosure of non-financial and diversity information

No

---

Contact

ROBUR Industry Service Group GmbH

www.robur-group.com

Managing Director

Jan-Jörg Müller-Seiler

Theresienhöhe 12

80339 München

Germany

+49 (0) 89 41 41 71 985

jmuellerseiler@robur-group.com
Describe your business model (including type of company, products / services)
Responsibility IS A




Management Task
ROBUR stands for modern, high-quality industrial services and for solutions to the challenges associated with the digital transformation and ecological change. With about EUR 200 Mio. turnover in 2020 we belong to the top 10 industrial service providers in Germany.
Almost 3,000 colleagues globally work in the wind, water, energy, industrials and process industries and create holistic solutions as expert partners. From planning to implementation, to operation and maintenance, to relocation and decommissioning. Beyond that, we support our customers in the design of the digital transformation with solutions in digitization, automation and data insights.
Our Fields of Activity
As an internationally active industrial service provider, ROBUR, together with its partners, operates along a broad action spectrum and under various framework conditions. ROBUR's service portfolio is divided into five industry segments.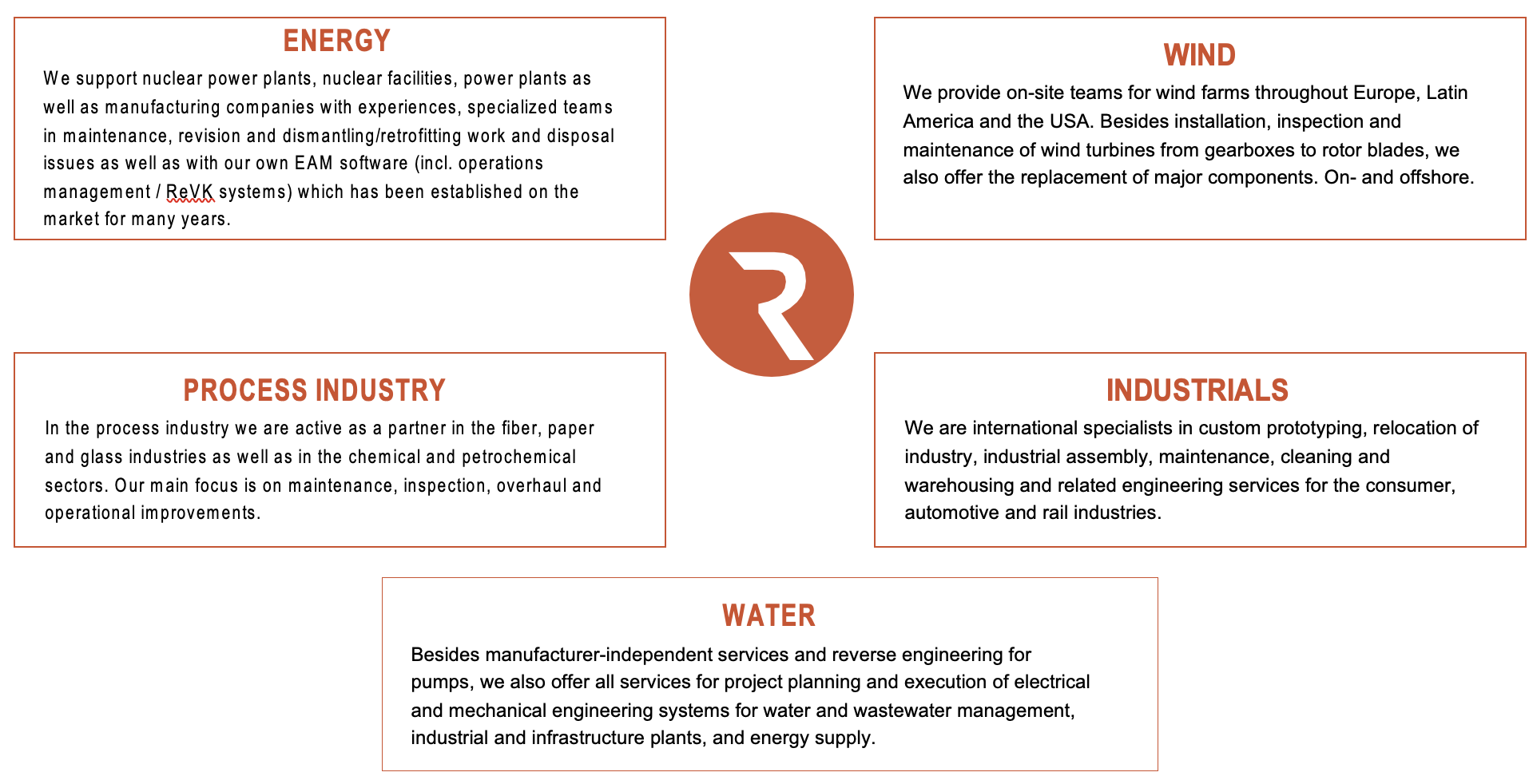 Based in Germany – Working for our customers throughout Europe and the World.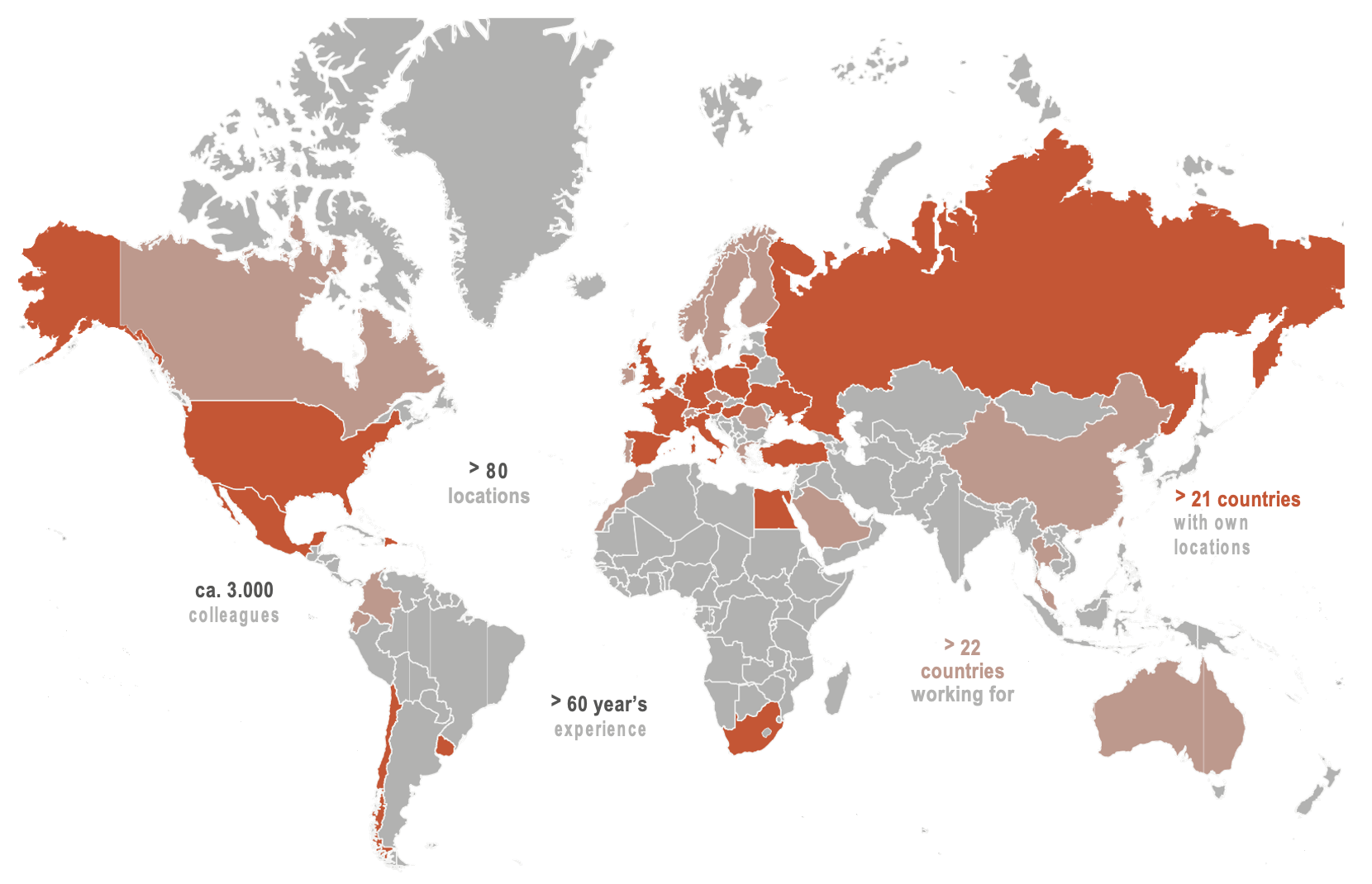 The challenges of ecological change are our drive for creating efficient, optimized and holistic solutions for the benefit of our customers, the environment and the future generations. Sustainability is an elementary component of ROBUR's corporate philosophy.

We see sustainable corporate management as the key to our continued economic success and focus on the three pillars of sustainability: ecology, economy and social responsibility. ROBUR's goal is to create values that benefit our customers, our business partners, our colleagues and us as a company. With this, we make a contribution to society for a future that is safe, successful and worth living in.

The ROBUR Sustainability Report 2021 is ROBUR's first report. It presents the status quo for the reporting year 2020 and is the gateway for the transparent communication and presentation of our implemented measures to optimize our performance regarding a stronger sustainability in our actions and the future development along the core fields of action in sustainability of the group. The report is based on the specifications and requirements of the internationally recognized German Sustainability Code (DNK - Deutscher Nachhaltigkeitskodex) for sustainability reporting and includes the indicators of the Global Reporting Initiative (GRI Standards).
In our first sustainability report we provide an insight into our sustainability strategy, transparently and comprehensiveley document the sustainability related performance of ROBUR and define our short-, medium-, and long-term sustainability goals as well as measures for their realization.

The reported contents reflect the challenges of sustainable development relevant to our business activities.
We voluntarily update our sustainability report annually and will continue to report on the further development of our sustainability effort in the future and measure the achievement of the sustainability goals we have set for us.
Additional remarks:
Our Philosophy
In 2015, ROBUR set out to redefine industrial services in a changing market environment. ROBUR is the umbrella organization under which independent companies from a wide range of industrial service areas pool their expertise and grow together. ROBUR is now with meanwhile 26 companies and approx. EUR 200 Mio. turnover one of the top 10 industrial service providers in Germany. As a community of independent partner companies with common values, guiding principles and service guidelines, ROBUR establishes and lives collaborative leadership and strengthens the flexibility and entrepreneurial agility of its partner companies with the associated services, synergies and continuous investments in the group's technological progress. All ROBUR partners bear the equal and undivided responsibility for creating a safe, future-oriented and responsible working environment for the benefit of our colleagues, the environment, our customers and business partners and the future generations.

Our Vision
ROBUR is the qualitatively and innovatively leading holistic service provider for trend-setting industrial and energy companies and shapes their digital transformation and ecological change.

Our Mission
We are a competent partner for our customers: From planning and realization via operation and maintenance to relocation and dismantling of industrial plants, we support them in creating an optimized life cycle for their plant and mastering the challenges of digital transformation and ecological change.