Hamburg Messe und Congress GmbH
General

|

General Information
General Information
Company name
Hamburg Messe und Congress GmbH

---

Company website
www.hamburg-messe.de

---

Number of employees
250 - 499

---

Reporting year
2020

---

Indicator set

GRI SRS

---

Directly affected by the disclosure of non-financial and diversity information

No

---

Contact

Hamburg Messe und Congress GmbH

Sustainability Officer / Nachhaltigkeitsbeauftragte

Sabine A. Off

Messeplatz 1

20357 Hamburg

Germany

+49 40 3569-2205

nachhaltigkeit@hamburg-messe.de
Describe your business model (including type of company, products / services)
The Ideal Connection
In Germany's second largest city, Hamburg Messe und Congress (HMC) organises, serves and enables a wide range of major national and international events year after year: Renowned industry fairs, world-leading congresses, political party conferences, annual general meetings, cultural and sports events all find the right conditions at this venue.
Situated between the University and the famous Reeperbahn district, in the midst of a vibrant inner-city with generously spaced parks, the eleven halls of the Hamburg trade fair campus offer more than 87,000 m
2
of exhibition space. Just a few metres away, the CCH – Congress Center Hamburg provides up to 50 event halls and rooms.
"We create connections. New ones, different ones, again and again. The 'ideal connection' motto describes our mission," says Bernd Aufderheide, President and CEO, Hamburg Messe und Congress GmbH.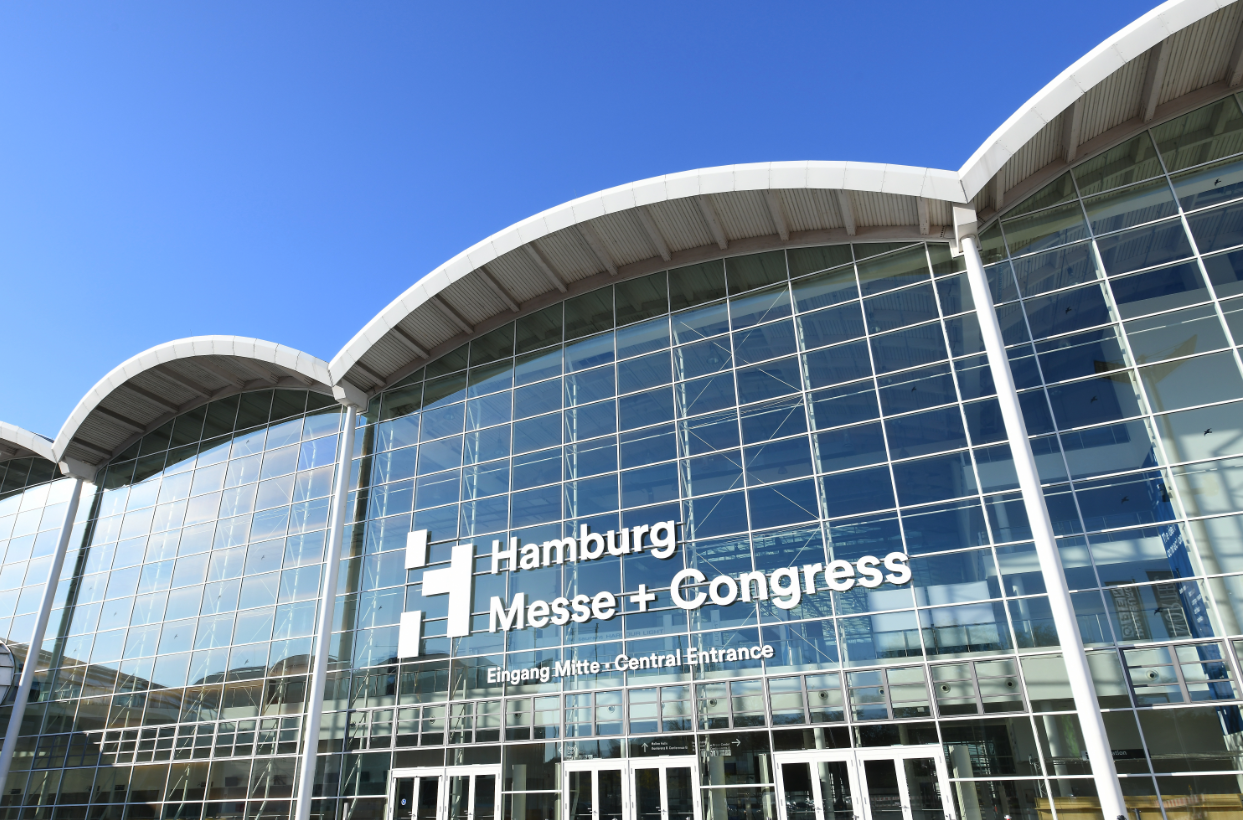 Central Entrance © Hamburg Messe und Congress / Michael Zapf
Broad Variety of Events
HMC's varied portfolio of exhibitions primarily focuses on industries clustered in the metropolis on the river Elbe: Top trade events which bring together key industrial decision-makers from around the world include SMM, the leading international maritime trade fair; WindEnergy Hamburg; or INTERNORGA, Europe's leading trade show for foodservice, hospitality, communal catering, bakeries and confectioners.
The Hamburg Messe und Congress exhibition campus not only offers ideal conditions for prominent guest events, including key exhibitions for industries such as aerospace, or major buyers' fairs for retailers, but also for attention-grabbing public trade fairs, international marketing events, TV galas, award ceremonies and political summits.
Hamburg Messe und Congress is well respected internationally for its expertise and dependability in organising and supporting successful trade fair appearances of German companies on all continents. Numerous award-winning German trade fair presentations at world expos have earned HMC an excellent reputation as a general contractor.
The new CCH – highly flexible and multifunctional
Just a few minutes' walk from the Hamburg Messe campus is the CCH – Congress Center Hamburg, one of Europe's largest congress centres. After undergoing comprehensive renovation and modernisation for the past five years, the complex provides 12,000 m
2
of exhibition space, 12,000 m
2
of foyer space, a total of 12,000 seats, and all the technology and flexibility today's congresses and events require as of 2021.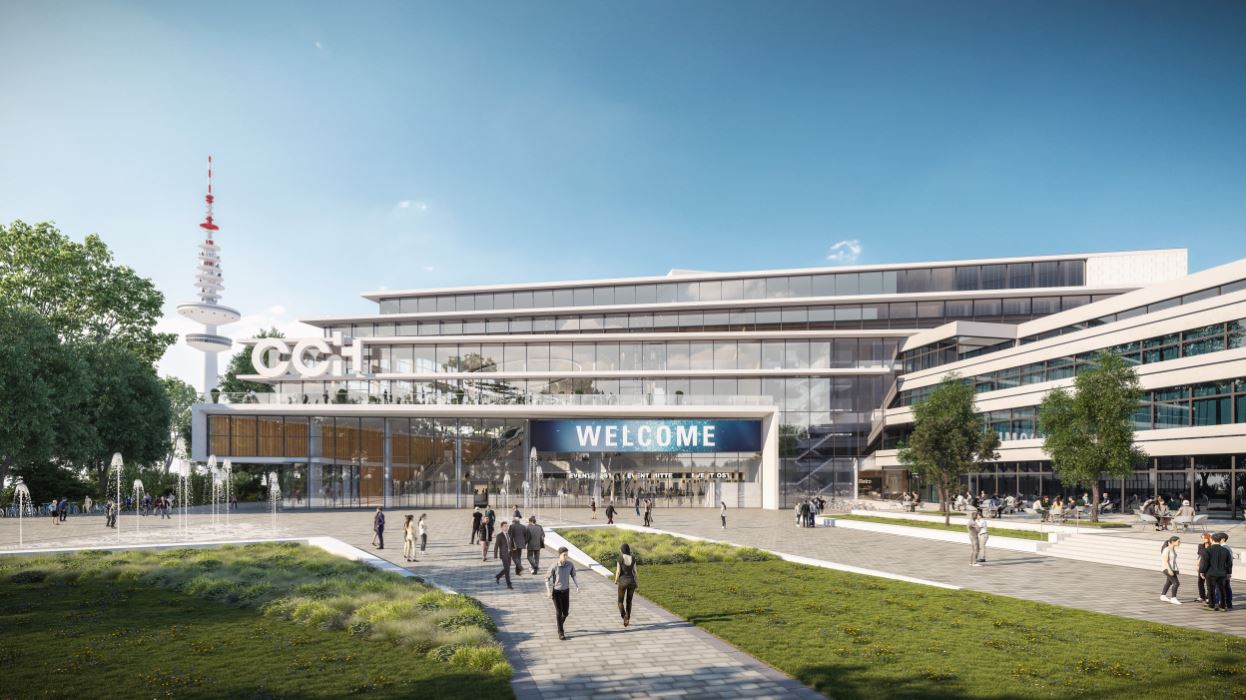 The new CCH © Hamburg Messe und Congress / Planung Arbeitsgemeinschaft agnLeusmann mit TIM HUPE Architekten, Hamburg Planning Consortium agnLeusmann with TIM HUPE Architects, Hamburg


In the Heart of the City
The Hamburg Messe und Congress campus is situated in a unique location in the Hamburg downtown area. The 'Planten un Blomen' park, the iconic Elbphilharmonie building, the new HafenCity district, the Speicherstadt World Heritage Site, and a colourful mix of fascinating neighbourhoods are all located in the immediate vicinity of the exhibition complex and the CCH.

Additional remarks:
The Corona-Year 2020
"People are yearning for face-to-face interaction"
The coronavirus year 2020, originally expected to produce the strongest business outcome in company history, turned out to be the weakest fiscal year Hamburg Messe und Congress GmbH (HMC) had ever seen, with preliminary sales revenues of 20.1 m euros and a bottom line of minus 58.2 m euros. Beginning in March 2020, postponements and cancellations accumulated, ending in an almost total exhibition lockdown. In particular, the cancellation of Hamburg's three flagship trade fairs, INTERNORGA, SMM and WindEnergy Hamburg, as on-site physical exhibitions rendered it impossible to achieve the envisioned record sales figure of 111.2 m euros.
When the first COVID-19 cases emerged in Germany in early 2020, HMC, like other organisations, felt compelled to implement suitable protective measures. In response to the restrictions imposed to fight the pandemic, a large portion of HMC's employees have been working remotely since May 2020. This practice has been extended until the end of the 2021 summer holidays in Hamburg. By practicing social distancing, HMC helps contain the coronavirus, providing opportunities to organise social gatherings while protecting participants by spacing them apart.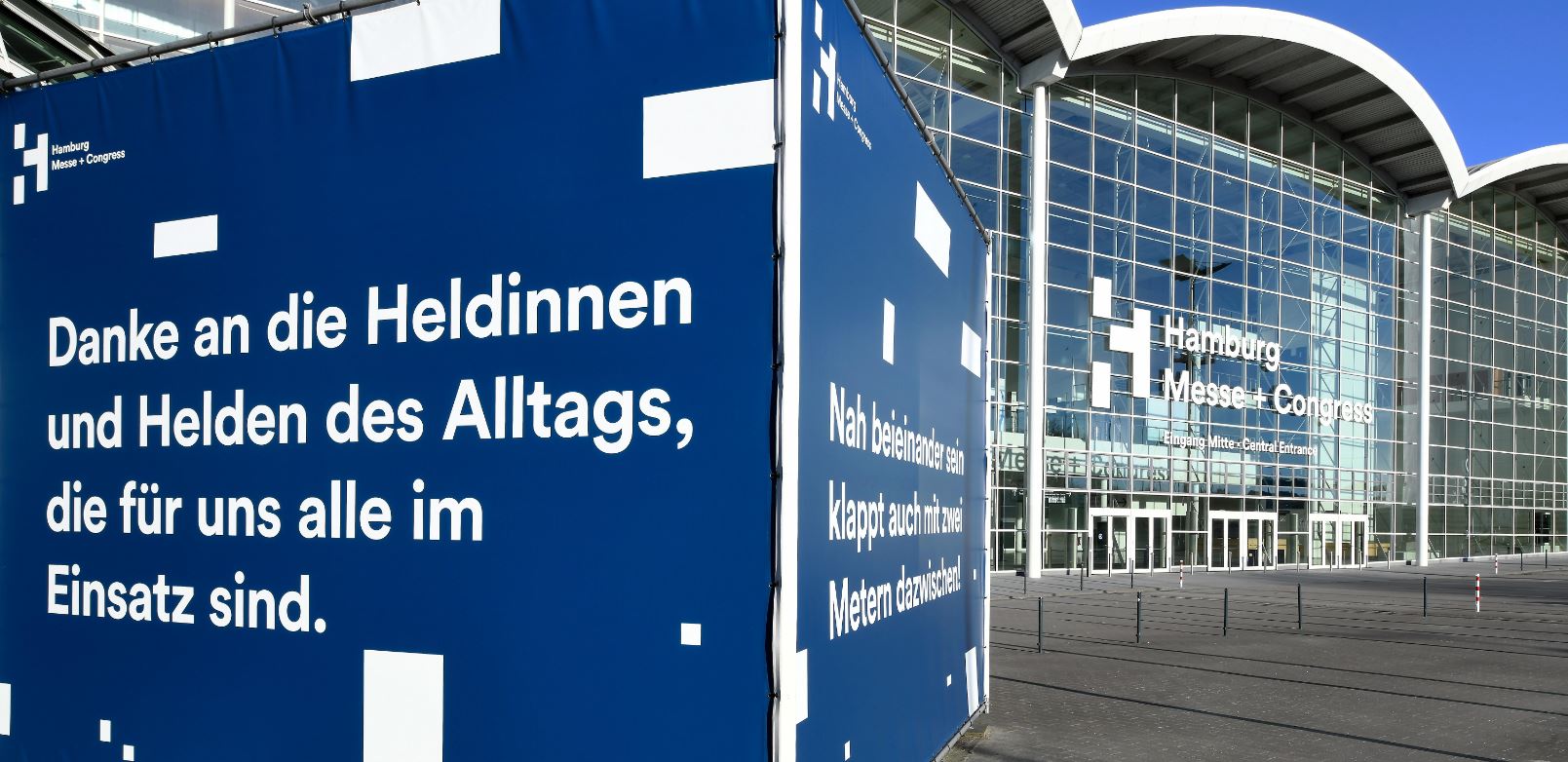 © Hamburg Messe und Congress / Michael Zapf
In the summer months, 26,300 university students were able to take their written exams in the exhibition halls while maintaining the required social distance. From December 2020 until August 2021 Hamburg's Vaccination Centre, organised by the Institute for Hygiene and The Environment, was set-up inside the exhibition halls.
Working closely with the authorities and relevant institutions, HMC has developed a COVID-19 Health And Safety Plan which specifies rules for events on the exhibition campus. All information and safety precautions are provided on the HMC website (e. g.
Health and Safety Guidelines
).
The HMC Executive Board expects a return to somewhat normal conditions from 2022.
"But it will be a different kind of normality than what we knew before the pandemic: The entire exhibition and congress business is undergoing profound change." – Bernd Aufderheide, President and CEO.
The pandemic has accelerated the digital transformation enormously. Future event formats will be more hybrid, multifaceted and interactive.
"Attractive cities such as Hamburg with exhibition halls and a congress centre right in the middle of the city will benefit from this development," Bernd Aufderheide is certain. "We are using this time to better position ourselves digitally and are looking forward to the day we will be able to fully resume our business activities."