motan holding gmbh
General

|

General Information
General Information
Company name
motan holding gmbh

---

Company website
www.motan-colortronic.com

---

Number of employees
500 - 4.999

---

Reporting year
2020

---

Indicator set

GRI SRS

---

Directly affected by the disclosure of non-financial and diversity information

Yes and check compliance statement with CSR reporting obligation

---

Contact

Geschäftsführerin

Sandra Füllsack

Stromyersdorfstraße 12

78467 Konstanz

Germany

07531/8178 0

info@motan.com
Describe your business model (including type of company, products / services)
The motan group is a market leading supplier of units and systems for the plastics manufacturing and processing industry. We want to play an active role in shaping the evolution and development of the plastics industry and aspire to grow through innovation. Currently, over 500 employees at 14 global locations are working towards these goals.
motan is a medium-sized corporation, active on global stage, which is mindful of its role as responsible partner in a network of employees, customers and suppliers.
motan develops modular units and well-thought-out systems for the manufacturing and processing of plastics. Our product lines cover the entire spectrum: dosing & mixing, drying, crystallizing, conveying and storage as well as the corresponding control and automation technology. Our high-quality products deliver everything you need for materials management: from injection moulding, over blow moulding and extrusion, to compounding. For granulate, pellets, regrinds, powers, colors and liquids. Our engineering delivers individually tailored, highperformance solutions that meet all your requirements.
Management Structure

The motan group was founded in 1947 and is a middle-sized, family-run company that operates
worldwide. Most of the 15 subsidiaries belong to 100% to the motan group.
Nevertheless, motan hast a decentralized organization. It is our full conviction, that the local needs can best be served by people who are understanding the local market. Therefore, every subsidiary is run by a local managing director.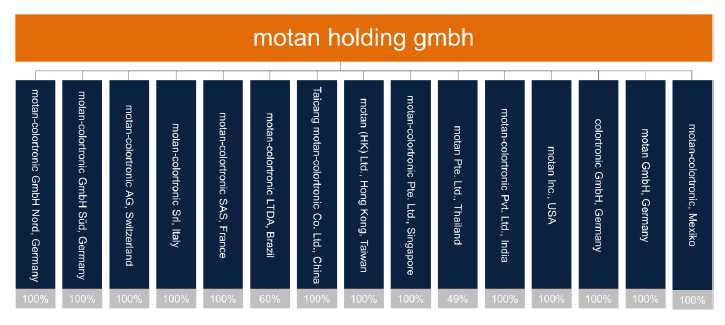 Additional remarks:
About this report:
Motan's Corporate Social Responsibility-Report describes how the motan group balances economic aspects with environmental and social responsibility. It is published in English and is available in pdf-form. The facts and figures in this report refer to the fiscal year 2019 and 2020. The 2019-2020 report is the first Corporate Social Responsibility-Report of the motan group. The statements apply to all motan companies, unless it is stated otherwise.

Defining Key Topics:
In this report we want to give an honest and comprehensive account of sustainability at motan for the benefit of our customers, business partners, suppliers, non-governmental organizations, authorities and, of course, employees and neighbors.