The company discloses what qualitative and quantitative goals it has set itself with regard to its resource efficiency, in particular its use of renewables, the increase in raw material productivity and the reduction in the usage of ecosystem services, which measures and strategies it is pursuing to this end, how these are or will be achieved, and where it sees there to be risks.
Carbon-neutral by 2030 Munich Airport has once again significantly raised the bar for its climate-related goals, to enable it to keep up with the fast-paced development of objectives in climate protection policy and to meet its own targets:
With respect to the emissions that it is able to impact directly, the airport is to make its operations completely carbon-neutral by 2030 – and will be the first airport in Germany to do so. To achieve this, the Munich Airport Group is aiming to reduce the greenhouse gas emissions that can be attributed directly to its operations by at least 60 percent using a wide array of technical measures. The remaining 40 percent will be balanced out by compensation measures, preferably within the region. This climate protection goal was passed by the Supervisory Board in December 2016 and is significantly more ambitious again than the former goal to achieve carbon-neutral growth by 2020. Flughafen München GmbH is investing 150 million euros by 2030 to achieve this target, almost an entire year's net profit.
Waste management

Flughafen München GmbH meets every single requirement in the German Waste Management and Product Recycling Act. The number one priority is to produce as little waste as possible. However, waste and scrap products are generated from the operation of the airport – across the board – and these are then collected where they occur in various separating systems, handed over to certified specialist businesses close to the airport, prepared in sorting plants, and then recycled. The small proportion of residual waste that cannot be recycled is converted by the Munich North power plant into district heat and power. Sustainable waste management contributes to generating secondary materials, while also helping to save on costs.
Resource conservation
Flughafen München GmbH is making continuous improvements to the entire process chain as well as to the process for separating and sorting all waste and scrap material. Thus for example a new shredding plant shreds confidential data material promptly «in-house». Sensitive files are not now sent to the disposal firm. The waste paper created in this process is sent to a paper plant for use as a raw material. Since April 2018, one airport employee, certified to LAGA PN 98 (Government/States Working Group on Waste), has been taking samples during building and demolition projects under his own direction, and has thus been ensuring quality controls. A key advantage lies in the fact that the prescribed and most cost-effective disposal form is determined at the same time.
The majority of waste and scrap material is generated by affiliated companies, the companies based at the airport as well as airlines. A custom-designed disposal concept tailored specifically to the party generating the waste is therefore essential for successful resource conservation – from the actual generation of the waste through to recycling and disposal. FMG therefore provides regular information on current waste topics, gives tips on environmentally-friendly conduct, and is on hand to offer advice.
The year-on-year increase in waste is based essentially on the increase in demolition and building renovation works. The «top soil» excavation material, all of which was recycled, lead to a higher recycling rate.
Since 2016, Flughafen München GmbH has used exclusively recycled paper with the «Blue Angel» eco-label. New digital workflows, for example for business trip applications, also help to save paper.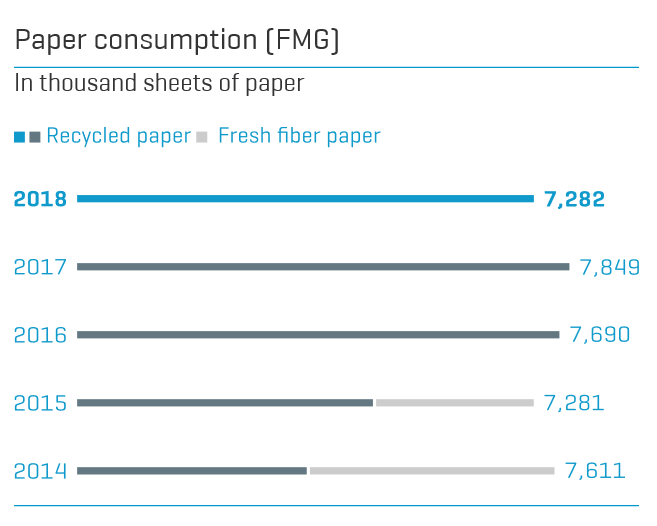 Who causes what
The majority of waste and scrap material is generated by affiliated companies, the companies based at the airport, as well as airlines. A custom-designed disposal concept tailored specifically to the party generating the waste is therefore essential for successful resource conservation – from the actual generation of the waste through to recycling and disposal. FMG therefore provides regular information on current waste topics, gives tips on environmentally-friendly conduct, and is on hand to offer advice.
Water management
The aim of water management at Munich Airport is to affect the natural water balance as little as possible and arrange the various effects caused by water resource management, drainage, and the provision of drinking and extinguishing water so that they have as little impact as possible. Overall, FMG aims to achieve the following:
Minimize the volume of wastewater
Separate wastewater at the source, and treat and dispose of it separately
Only use drinking water where drinking water quality is really needed
Keep wastewater away from sealed surfaces so as to prevent peak run-off
Make sure the condition of the groundwater and bodies of water above ground is not impaired
For example, for some years now, quaternary groundwater close to the surface (process water) from our own wells has been used for cooling in the power centers, west and east, instead of precious tertiary groundwater (drinking water). This lead to a saving on drinking water of around 1,727,100 cubic meters by the end of 2018. Preparatory building works have started on additional process water wells in a bid to save up to a further 50,000 cubic meters of drinking water a year over the next few years. Overall, drinking water consumption at Munich Airport fell by around three percent in 2018 compared to the previous year. This is because the airport takes an economical approach when handling drinking water. For every 1,000 traffic units (1 traffic unit = 1 passenger or 100 kilograms of airfreight), specific drinking water consumption decreased further: to 19.8 liters, compared to 21 in the previous year.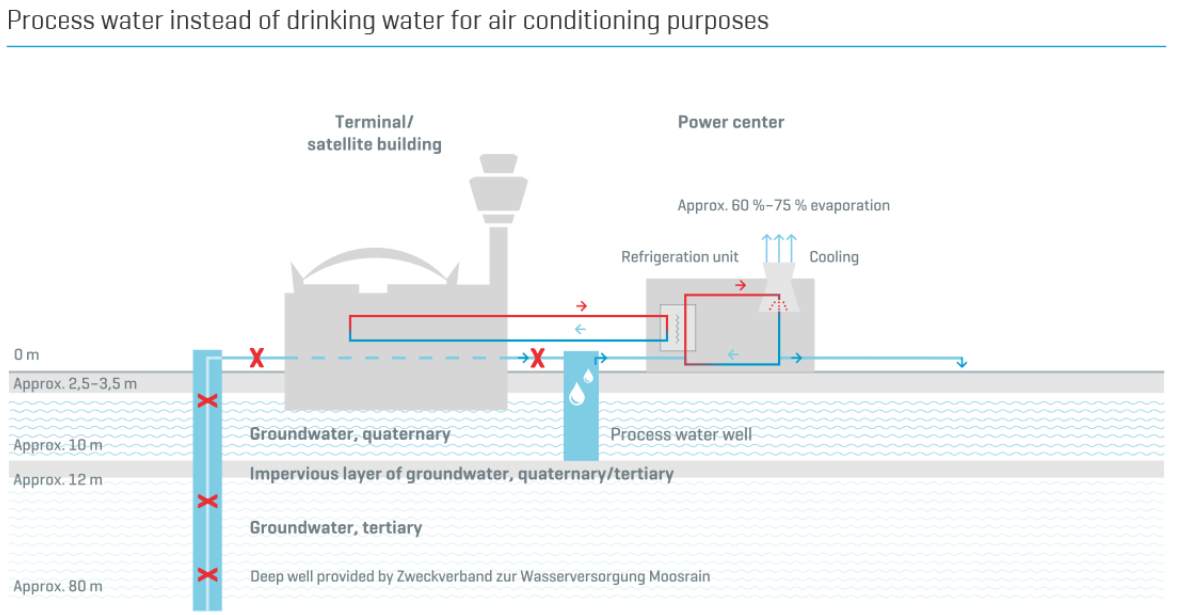 A sewage system stretching for around 300 kilometers collects wastewater at Munich Airport. Depending on the level of contamination, the water is pretreated in the airport's own plants, retained, added to bodies of water, or sent to the sewage plant in Eitting.
Ground filters protect groundwater
Ground filters in the area around the heads of the runways prevent de-icer from entering into the groundwater. They are used to retain and clean the collected waste de-icer. Regular examinations of the leachate using a TOC measuring system (TOC = Total Organic Carbon) verify their cleaning efficiency. Depending on the level of residual contamination, it is routed to a body of water or – during harsh winters where lots of de-icer is used – sent straight to the sewage plant. The filters at the heads of the north runway and to the east of the south runway are already in operation, a fourth is currently being constructed to the west of the south runway and is due for completion in 2019.
Aircraft de-icer cycle
De-icing vehicles keep aircraft free from ice and snow before take-off. The de-icer dripping off the aircraft during this process finds its way via slit drainage gutters and channels into underground basins. It is then mechanically and chemically treated in the airport's own recycling plant, before being distilled and converted back to its original state with the use of additives. The recycling rate for the active glycol component in de-icer was around 57 percent for the 2017/2018 season. The average for the last few years has ranged between 41 and a maximum of 59 percent – depending on the weather and taking into account a level of energy consumption suited to the environmental footprint.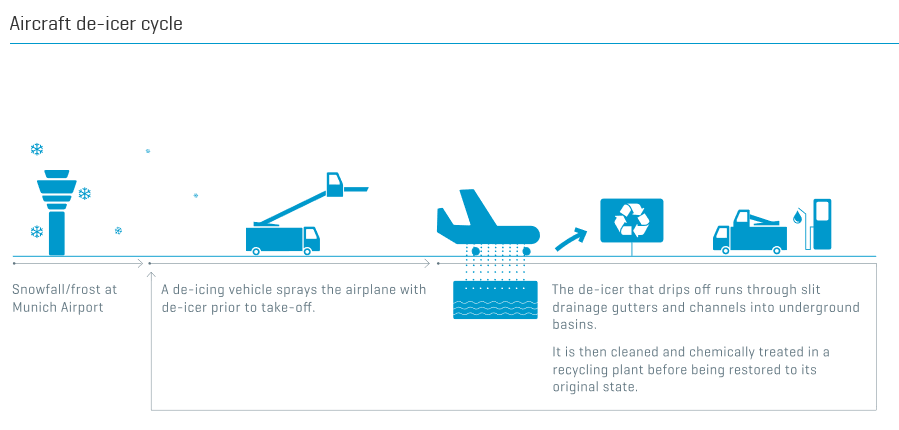 Further information is provided in the integrated report under environmental and climate protection:
Resource management
Environmental risks
The aim of the risk management system is to identify events and developments that may have a negative impact on the achievement of strategic and operational targets in good time and develop suitable countermeasures. It takes account of all aspects of entrepreneurial activity – economic as well as environmental and social. The risk manager continually monitors the effectiveness of risk management. Risks are also monitored separately by Internal Audit.
The listed environmental risks were identified for the airport as non-producing lines of business.
This risk assessment relates to the economic impact in the specified assessment period up to December 31, 2018.
Further information:
Outlook:
Risks and opportunities report
Scope 1 and Scope 2
In the year under review, it was possible to further reduce the emissions of Scope 1 and 2, i.e. the emissions of the Munich Airport Group. In addition to factors over which the airport has no influence, such as the changes in the German electricity mix and the weather, two things contributed especially to this development: a modification in the calculation (the energy requirement of the pre-conditioned air systems is attributed to the airlines, which thus avoid emissions from the auxiliary power units) and a performance increase caused predominantly by rising passenger figures and the associated increase in energy requirements. This is offset by savings in the amount of 3,667 tonnes of CO
2
, which almost completely canceled out the increase. The development shows clearly that additional measures are required to achieve the CO
2
goal; plans are underway.
Block heat and power plant operates highly efficiently
With its block heat and power plant, the airport generates over half of its on-site energy requirements using natural gas.The waste heat generated from this alone covers almost all of its heating and cooling requirements without requiring the use of additional energy. The airport then covers its remaining heating requirements by procuring district heat from Fernwärmeversorgung Freising. In turn, 50 percent of the purchased district heat – i.e. around 14 Gigawatt hours (GWh) – comes from a biomass thermal power plant in Zolling, which reduces the CO
2
emissions by a further 3,000 tonnes approximately per year. If the heat and power were generated separately in the mix applied in the Federal Republic of Germany, the amount of CO
2
produced each year would be 40,000 tonnes higher.
Less than a third of the power used on the airport campus comes from external energy providers. Overall, emissions produced by the external procurement of power and district heat have decreased by 25 percent since 2005. Looking at the Munich Airport Group alone, this figure has fallen by almost 50 percent. This is down to the new, even more efficient engines for cogeneration of heat and power on one hand, and reductions in power consumption on the other.
Renewable energy from photovoltaic systems In its drive to achieve a carbon-neutral airport, Munich Airport is also using renewable energy.
The first larger-scale system of this type with an installed rated output of around 750 kilowatt was realized in the summer of 2018 on the new P51 parking structure. It generates around 730 megawatt hours of renewable electricity per year and thus saves 423 tonnes of CO
2
annually. An expansion will take place in 2019. By 2030, systems with a total output of up to 20 megawatts are planned.
LED upgrade of aprons completed A milestone has been reached on the path toward a carbon-neutral airport:
After a six-year implementation phase and investment of more than two million euros, the airport has completed the upgrade of the apron lighting to energy-saving LED technology. With 185,000 LEDs in around 1,900 lamps on lamp posts standing up to 34 meters tall, Munich Airport boasts one of the largest LED high mast systems in the world. The new LED lighting impresses with its particularly high levels of energy efficiency combined with better light output, longer service life, and low maintenance costs. Already, the airport is saving around 14,700 tonnes of CO
2
through the optimized lighting alone – about one fifth of that is attributable to the aprons. Time for the next major project: The external lighting in the public areas of the airport will be also be switched to LED technology by 2022.
E-mobility on the rise
As part of its climate protection program, Munich Airport uses alternative fuels from renewable energy sources within its vehicle pool:
24 cars use biogas.
85 passenger cars/mini-transporters and 268 pieces of handling equipment are electrically operated.
A further 44 electric drive cars have already been ordered.The proportion of electric vehicles is rising significantly: By 2030, they should comprise the lion's share of the vehicle pool. In 2018, Munich Airport replaced a further 85 of its older vehicles run on gasoline or diesel. Electric vehicles currently comprise more than 20 percent of the current vehicle pool. The six-figure, environmentally-friendly investment is supported by subsidies from the German Ministry of Transport. Compared to 2017, it proved possible to reduce the local emission of CO
2
by around 76 tonnes.
Synthetic fuels from waste
The new fuel «C.A.R.E. diesel», which is made from residual and waste materials as well as from renewable raw materials, also promises further potential. A successful practical trial was started in November 2017 in the road sweeper fleet. It has been possible, with approximately 60,000 liters of C.A.R.E. diesel, to avoid around 157 tonnes of CO
2
emissions compared to conventional diesel. Use of this fuel has meanwhile been suspended.
Scope 3
One important factor in the climate protection strategy is the new pre-conditioned air systems (PCA systems). Since fall 2016, this technology has been supplying aircraft parked in the parking positions next to the buildings at Terminal 1, Terminal 2, and at the satellite building with pre-conditioned air. As a result, the aircraft no longer need to run their auxiliary power units (APUs), which are responsible for high levels of noise, carbon emissions, and other air pollutants. In 2018, the operating times of the 64 PCA systems increased further, which lead to a reduction of 18,364 tonnes of CO
2
Flughafen München GmbH together with the airlines and the companies based at the airport also improved other climate protection measures in 2018, such as the environmentally-sound continuous descent operations (CDO) and the optimized taxiing system (ACDM; Airport Collaborative Decision Making), which reduces taxiing times.