The company discloses the extent to which natural resources are used for the company's business activities. Possible options here are materials, the input and output of water, soil, waste, energy, land and biodiversity as well as emissions for the life cycles of products and services.
Environmental policy
FMG tailors its corporate policy in all areas to ensure that successful operation is also guaranteed in the future in terms of safeguarding mobility and quality of location in Bavaria. FMG's environmental policy represents a binding set of guidelines for all company divisions and underlines the high value placed on environmental protection within the company.
The climate-policy goals are developing quickly, and FMG's standards are high. These two parameters are the foundations of Munich Airport's climate goal: From 2030, the airport will be carbon-neutral – the first German airport ever to be so. To achieve this, the Munich Airport Group is reducing the greenhouse gas emissions that can be attributed directly to its operations by at least 60 percent using various technical measures. The remaining 40 percent are to be balanced out by suitable compensation measures, preferably within the region. This climate protection goal adopted in December 2016 is significantly more ambitious again than the previous goal to achieve carbon-neutral growth by 2020. Flughafen München GmbH is investing 150 million euros by 2030 to achieve this target, almost an entire year's net profit.
Environment management
The Executive Board decided in 2004 to introduce an environmental management system in accordance with the EMAS and ISO 14001 standards, which was certified for the first time in 2005. An environmental management officer was appointed by the Executive Board to roll out, operate, and progressively develop the environmental management system. A management review is conducted each year in line with both standards to inform top management (the Executive Board in this case) of the current state of affairs. The protection of resources is one of many key environmental issues covered in this report. The environmental statement (a requirement of EMAS) provides information on measures and targets, including relating to the protection of resources.
Since 2005, Flughafen München GmbH has operated a
certified environmental management system
to the international standards of
DIN EN ISO 14001
and the requirements of the EU regulation EMAS (Eco-Management and Audit Scheme). It supports those subsidiaries whose activities are of great environmental relevance as they introduce environmental management systems. In 2018, it was audited for the first time in accordance with the updated, more stringent international environmental standard DIN EN ISO 14001:2015, and successfully certified. Over the course of the audit, environmental issues, opportunities, and risks were newly assessed and additional environmental management targets included, for example the «increase in biodiversity». The consideration of life cycles has also increased in importance. Moreover, FMG is supporting subsidiaries whose activities have a high environmental relevance with the introduction of a systematic environmental management system. Allresto, aerogate, and Cargogate have all been successfully recertified already. All employees are called on to conserve resources. Thus for example, an environment module in one training course for ground handling service providers focuses on reducing fuel consumption and on avoiding waste or collecting it correctly.

All direct and indirect environmental impacts are recorded and evaluated at Munich Airport. Direct environmental impacts are a direct consequence of the activities of FMG at the location and can be influenced by FMG. Indirect environmental issues result indirectly from the activities of FMG, without FMG having complete control over them.
As passenger and freight handling requires the most resources at Munich Airport, nine related key performance indicators reflect environmentally-relevant consumption values:
Water consumption
Heat consumption
Diesel consumption
Paper consumption
Quantity of wastewater
Quantity of waste
Carbon dioxide equivalents
Power consumption
Total energy consumption
Biodiversity
To integrate Munich Airport into its environment in the best possible way, FMG set about - from the very outset - creating structures that would upgrade the environment in the wider area and link it together. The concept divides the areas in Erdinger and Freisinger Moos into three zones:
Zone I: Airport premises with runway system, buildings, and road
Green areas with over 6,000 additionally planted trees, make up almost two thirds of the airport premises. Specialist care and maintenance has led to a rich variety of vegetation and ecologically valuable spaces, particularly inside the security fence, on the green areas between the runways and their infrastructure facilities.
Zone II: Wooded green belt with structural diversity around the airport premises
With its woods, ditches, and meadows, this area around the edge of the airport acts as sound protection and as a buffer for settlements and agriculture. For instance, more than half of the area around the northern receiving ditch with its near-natural, designed course, is now home to plants that are worthy of protection, such as the pasque flower, ox-eye, perennial flax, and campanul. On the list of particularly protected species are the local marsh gladiolus and fen pondweed.
Zone III: Ecological compensation measures

FMG has now planned and constructed around 450 hectares of compensation area. The aim is to offset the interventions in the natural landscape caused by the building projects. The responsible certification bodies have confirmed that sufficient areas have been cultivated and that these are looked after properly. These compensation areas for conservation, with their new woods and species, are making an important contribution to biodiversity in the region. They are distributed in the agricultural land and ensure species diversity, among other benefits. They are neither fertilized nor mown.
Valuable space for birds

As of 2017, FMG has created around 70 hectares of compensation space in the north of the airport, which are relevant for European species and land protection. The damp depressions in the terrain and the wide, open spaces should benefit, above all, meadow breeders such as the lapwing and Eurasian curlew. The measures are intended as compensation for road and rail works in the east of the airport.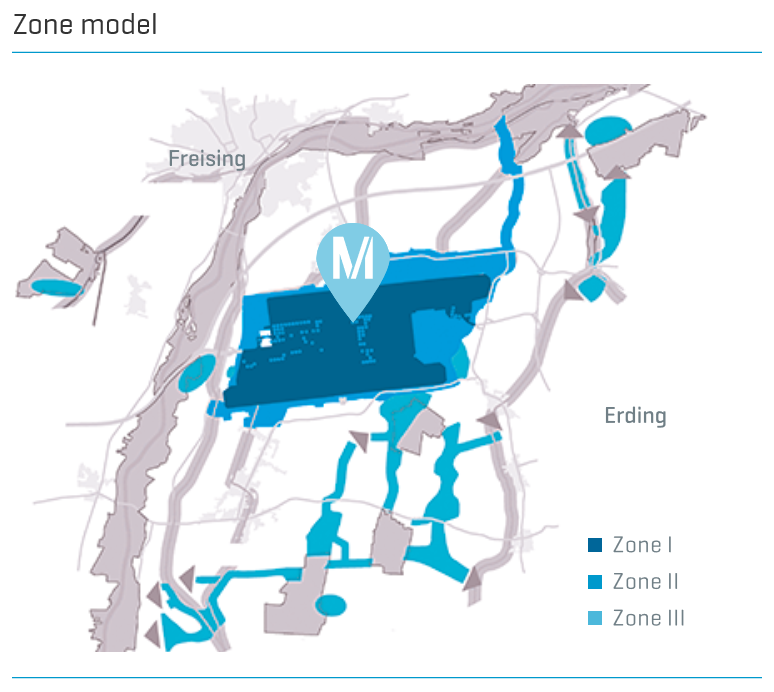 The airport is part of a bird sanctuary
Munich Airport is part of the 4,525-hectare «Nördliches Erdinger Moos» European bird sanctuary, which is home to 40 endangered species of bird, some highly endangered. It includes the 658 hectares of airport meadow around the runways and is an important habitat for endangered species of meadow breeders and also for rare species of plants, reptiles, dragonflies, and butterflies, such as creeping marshwort, sand lizards, ornate bluets, and the dusky large blue.
Protected habitat for meadow breeders and butterflies
To improve the habitats of meadow breeders, FMG set up a project in 2016, entitled «Meadow breeder protection in the area around Munich Airport», receiving specialist support from the Bavarian Ministry of the Environment. To achieve this goal, around 50 hectares of land currently used for agriculture will be used to develop and test preventive concepts and measures by 2020. These will include steps such as nest protection, more extensive cultivation, mowing concepts designed to suit meadow breeders, fencing to protect against predators, and the development of ecological lease agreements with corresponding requirements regarding cultivation.
One of the flagship projects within the Bavarian Environmental Pact is the airport's voluntary commitment to protect rare species of moor-based butterflies on «Freisinger Moos». Scarce heath butterflies, bog fritillaries, dusky large blues, and scarce large blues are the four at-risk species that will enjoy a new, protected habitat in six appropriate areas in the region, covering a total space of five hectares. These areas were also mown in a manner suitable for these species in 2018, in order to copperfasten the success of the measures already taken. In addition, experts toured the area for the purposes of performing an interim evaluation. The conservation project on butterfly protection will run provisionally until 2020.
Further information:
Biodiversity