The company discloses how the socially and economically relevant stakeholders are identified and integrated into the sustainability process. It states whether and how an ongoing dialogue takes place with them and how the results are integrated into the sustainability process.
A comprehensive analysis of our stakeholder groups was carried out on the basis of systematized interviews with the internal contacts in the respective dialog group and is reviewed annually as part of the materiality process.
Central stakeholders
Airlines, business partners, the media, employees, passengers and visitors, politicians and public authorities, the region, associations, and organizations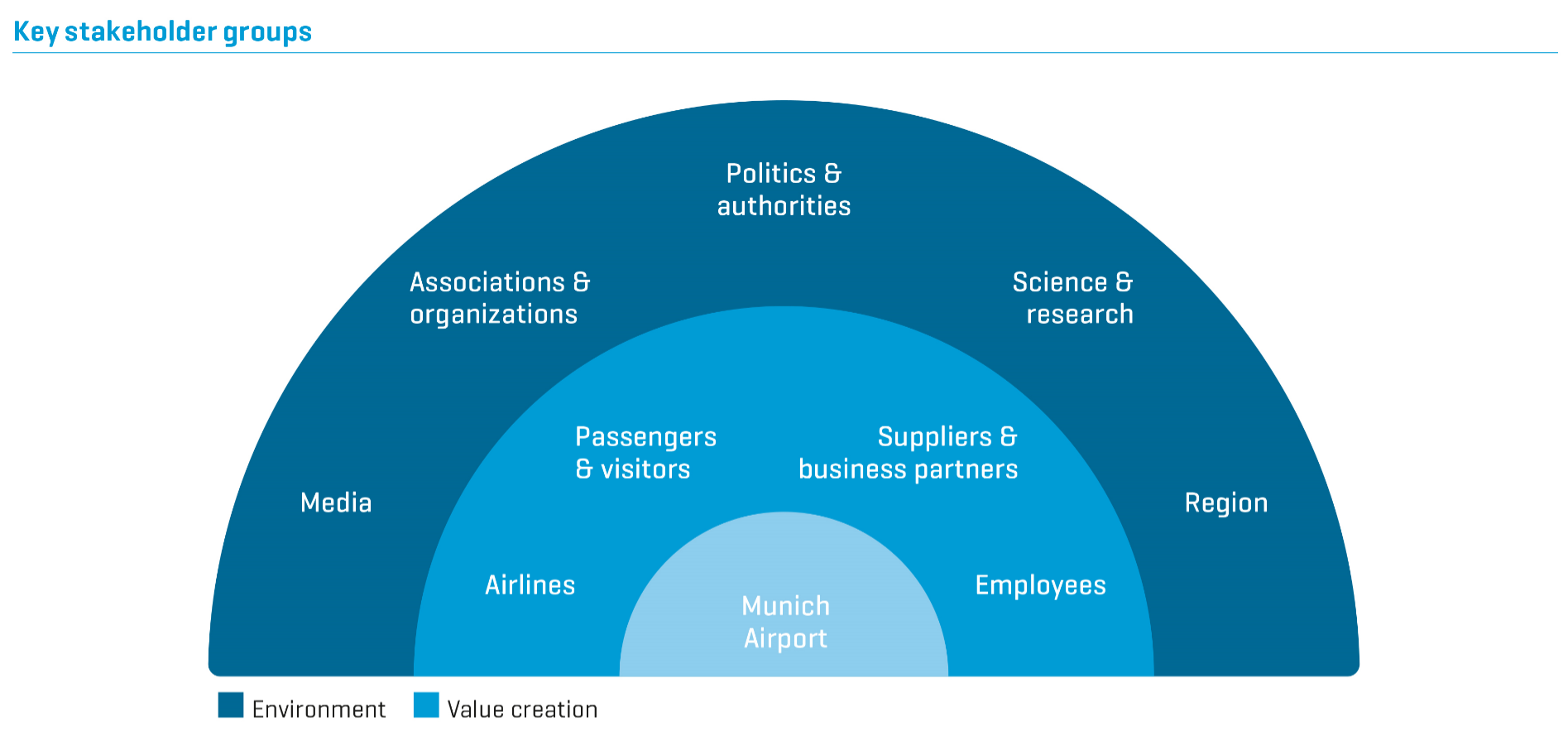 FMG applies a three-stage approach to stakeholder dialog, thereby encouraging transparency and increasing social acceptance.
Stage 1: Precise information via dedicated target group channels
For the information of the various interest groups, the airport has defined customized communication content and developed the appropriate communication formats. The integrated report, which FMG is now publishing for the ninth time, is an important tool in this regard. It brings together financial and sustainability reporting within a central publication and addresses all target groups.
Stage 2: Exchanging and gathering stakeholder feedback
The airport engages its stakeholders in discussions and decisions regarding issues that are of importance to them, thus creating the basis for trust and long-term acceptance. Via the reader survey, for example, the airport checks on the acceptance of the integrated report every year and determines the significance of key issues for stakeholders.
Stage 3: Results of dialog flow into business operations
Finally, Munich Airport also takes into account stakeholder feedback in relation to its business activities. Its stakeholders force FMG to confront new issues and thereby act as a mirror of society. This in turn makes it possible to identify issues and trends at an early stage and benefit from outside knowledge.
Related link to
stakeholder dialog
Related links to social media:
Facebook
(
https://www.facebook.com/flughafenmuenchen
)

Twitter
…
Instagram
…
Materiality process
The results of the annual stakeholder and FMG management survey are presented in a materiality matrix with two equivalent axes, which represent the importance of the individual issues for internal and external stakeholders. These issues are then discussed with experts within the company, and content is allocated to the strategic fields of action. The issues are also incorporated into the targets process.
Further information on the materiality process and on the
materiality matrix