Flughafen München GmbH (FMG) is headquartered in Munich. As the parent company of the Munich Airport Group (Munich Airport), it is the operator of Munich's passenger airport.
Munich Airport is active via the business units Aviation, Commercial Activities, Real Estate and Participations, and Services & External Business. The service profile of the Group covers virtually all the services available at the airport campus – from air travel including passenger and cargo handling through to retailing, hotels, and catering services. This integrated business model and depth of added value sets Munich Airport apart from its European competitors.
Munich Airport is committed to a
corporate policy of sustainability
. The orientation on economic, environmental, and social goals ensures public acceptance of the airport and consequently the viability of its business model.
Different
products
and services are generated (output) in the four business units. The value-added process is based on six forms of capital (input), which the airport uses to generate new values. This is the basis for the next fiscal year (outcome).
Further information:
Business model
The owners of FMG are the Free State of Bavaria with 51.0 percent, the Federal Republic of Germany with 26.0 percent, and the City of Munich with 23.0 percent.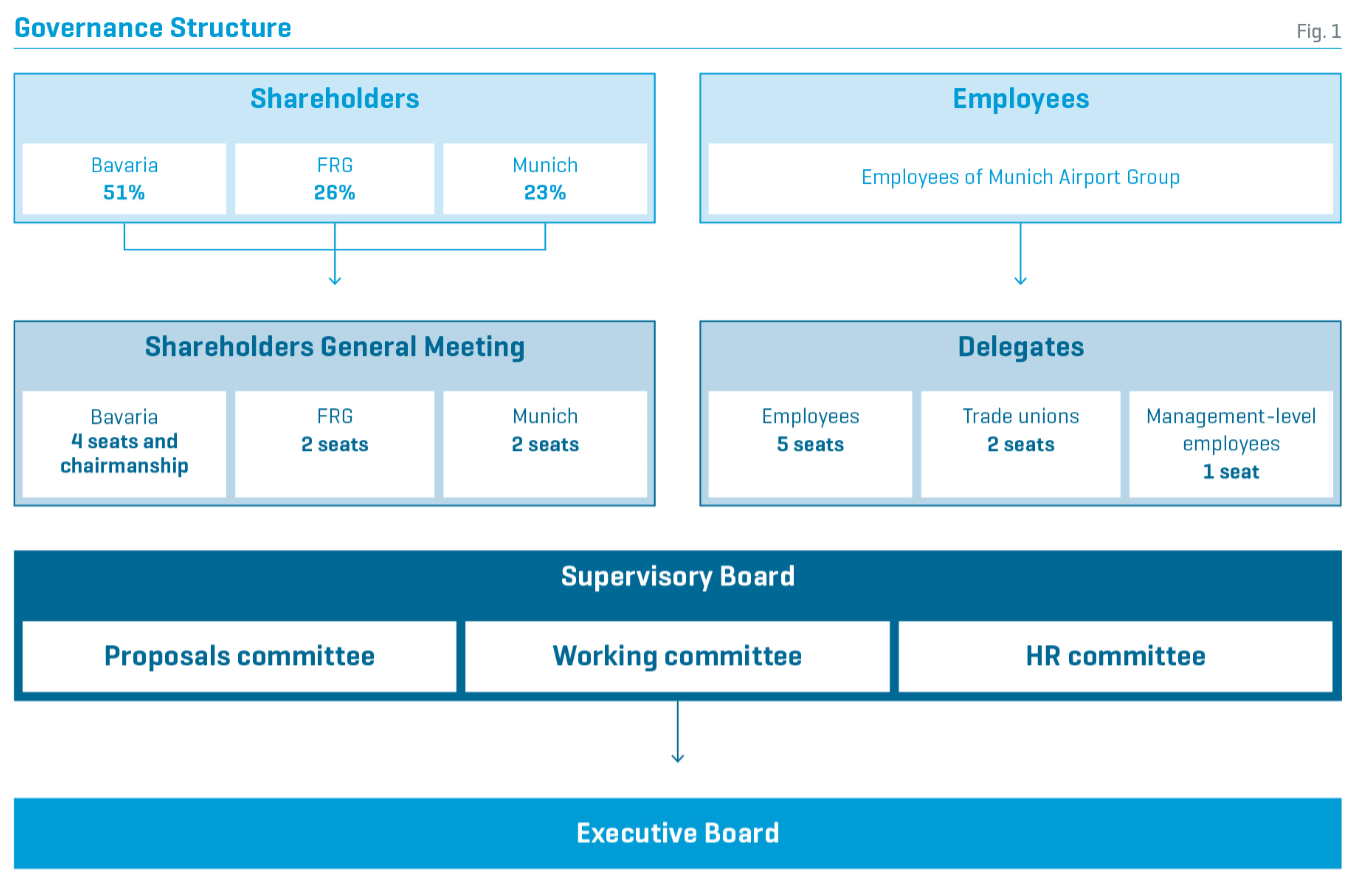 The Group's organizational structure is divided into the business divisions, service divisions and corporate divisions of FMG. Commercial management and the internal reporting system are handled by the business units. The business units comprise the business divisions and service divisions of FMG and the Group companies integrated in the business units.

In total, the Group comprises fourteen fully consolidated companies, one associate, and four companies that are not consolidated. These are directed by Group Controlling and Corporate Investment Management in line with the business division strategy assigned in each case.

LabCampus GmbH (LabCampus) was founded on February 20, 2018 as a wholly-owned subsidiary of FMG. The corporate purpose is to establish, market, and operate buildings and infrastructure on the area of the LabCampus.

Flughafen München Realisierungsgesellschaft GmbH (MUCreal) was founded on July 17, 2018 as a wholly-owned subsidiary of FMG. The corporate purpose is to provide management services for planning and implementing infrastructure and expansion projects and to construct buildings in connection with the operation of Munich Airport.
Further information:
Basis
of the Group