Flughafen München GmbH
General

|

General Information
General Information
Company name
Flughafen München GmbH





---

Company website
www.munich-airport.de

---

Number of employees
5000 - 50.000

---

Reporting year
2017

---

Indicator set

GRI SRS

---

3rd party assurance

Yes, by KPMG

---

Directly affected by the disclosure of non-financial and diversity information

No, but check the declaration of conformity in the sense of the CSR reporting obligation

---

Contact

Flughafen München GmbH

Referentin Strategisches Nachhaltigkeitsmanagement

Christina Berghäuser

Postfach 231755

85326 München

Germany

nachhaltigkeit@munich-airport.de
Describe your business model (including type of company, products / services)
Flughafen München GmbH (FMG) is headquartered in Munich.
As the parent company of the Munich Airport Group [Munich Airport], it is the operator of Munich's commercial airport.
Munich Airport is active via the business units Aviation, Commercial Activities, Real Estate and Participations, and Services
& External Business. The service profile of the Group covers virtually all the services available on the airport campus – from air travel including passenger and cargo handling through to retailing, hotels and catering services. This integrated business model and depth of added value sets Munich Airport apart from its European competitors.


The six capitals (input) are used as key starting values in the four business units, in order to generate new values (contribution to value creation). This is the basis for the next fiscal year (output).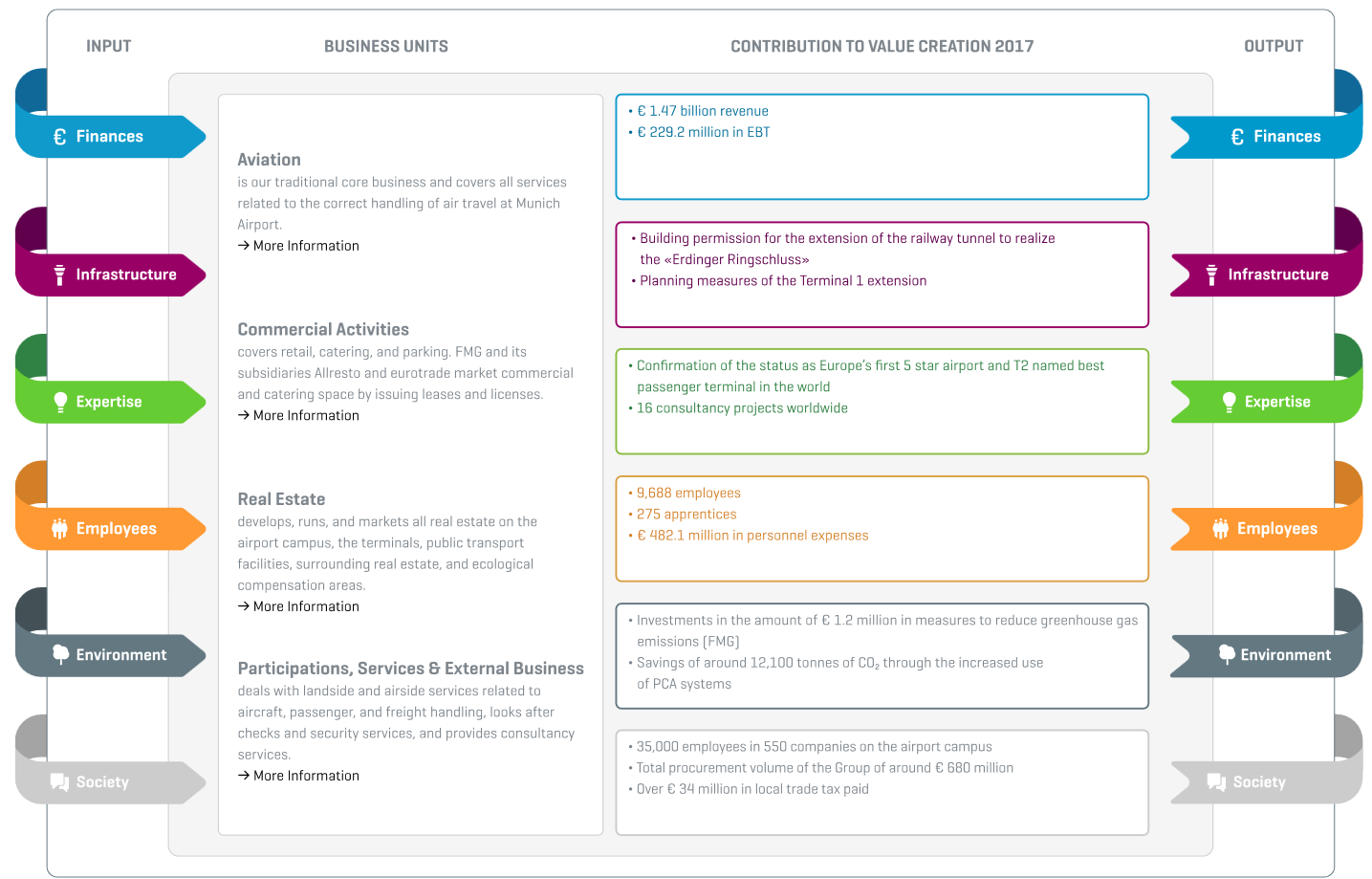 Further information:
https://report2017.munich-airport.com/at-a-glance/the-capitals/impact-of-our-activities.html
Munich Airport is committed to a corporate policy of sustainability. The orientation on economic, environmental and social goals ensures public acceptance of the airport and consequently the viability of its business model.
The owners of FMG are the Free State of Bavaria with 51.0 percent, the Federal Republic of Germany with 26.0 percent, and the City of Munich with 23.0 percent.
The Group's organizational structure is divided into the business, service, and corporate divisions of FMG. Commercial management and the internal reporting system are based on the business units. The business units comprise the business divisions and service divisions of FMG and the Group companies integrated in the business units.
In total, the Group comprises twelve fully consolidated companies, one associate, and five companies that are not consolidated. These are directed by Group Controlling and Corporate Investment Management in line with the business division strategy assigned in each case.
Further information:
https://report2017.munich-airport.com/financial-report/group-management-report/situation-of-the-group.html
Additional remarks:
The limited assurance audit on the sustainability information in the integrated report (SHOWING CLASS 2017) was performed by independent auditors from the auditing firm KPMG.
Excerpt from the audit certificate: «In accordance with our contract, we conducted an independent audit with limited assurance in relation to the information on materiality, reporting boundaries, and dialog with stakeholders, the information on the management's approach to selected material aspects (customer orientation; training and recruitment; equal opportunities and cultural diversity; employee satisfaction, further training and competence management; greenhouse gas (CO2) and pollutant emissions) including key figures on these material aspects, as well as information and key figures on employee structure and employees covered by collective bargaining agreements, air traffic figures/
material use; noise; biodiversity,
occupational health and safety in the integrated report (hereafter «the report») published at
https://report2017.munich-airport.com/homepage.html
for fiscal year 2017 of Flughafen München GmbH, Munich (hereinafter «Munich Airport»).»
Selected information and key figures regarding the sustainability performance included in the scope of our audit are marked in the
GRI Content Index
with the following symbol
«

»,
the management approaches contained in the scope of the audit
are highlighted in color in the «Key topics» table, both published at
https://report2017.munich-airport.com/homepage.html
Further information:
https://report2017.munich-airport.com/sustainable-development/independent-assurance-report.html
As part of the annual environmental statement, information on the environmental management system was validated by accredited environmental auditor Dr. Reiner Beer (DE-V-0007) of Intechnica Cert GmbH (DE-V-0279) in accordance with EMAS 1221/2009 and ISO 14001 + Cor.1: 2009. The data additionally checked by Intechnica Cert GmbH is marked in the «External audit» column of the
GRI content index
with the following symbol
:

See link:
https://www.munich-airport.com/certification-awards-264356